20 dead, 270 injured in gas blasts in Taiwan
Xinhua, August 1, 2014

Adjust font size: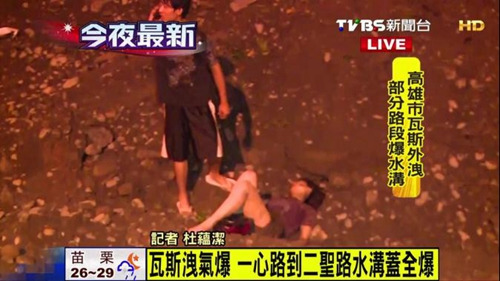 A gas leak explosion hit Kaohsiung city of China's Taiwan on Thursday. [Chinanews.com]
At least 20 people were killed and 270 others injured in gas leak explosions that hit Kaohsiung city of China's Taiwan on Thursday.
The dead included several fire fighters, according to a statement by the city government.
Kaohsiung Mayor Chen Chu said that the incident was the worst of its kind in the recent decade.
The island's fire-fighting authority said gas leaks were reported in the city's Cianjhen district at around 8:46 pm Thursday, leading to multiple explosions that affected an area as large as three square kilometers.
Jiang Yi-huah, the island's executive chief, is coordinating the rescue operations at an emergency response center that was put into operation at 0:40 am Friday.
The island's military force has deployed more than 300 soldiers to the sites to carry out rescue work.
Taiwan leader Ma Ying-jeou has urged relevant authorities to help the rescue, according to his office spokeswoman MaWei-kuo.