Ebola outbreak rages in West Africa
china.org.cn / chinagate.cn, July 31, 2014

Adjust font size:

The worst Ebola outbreak in history has killed hundreds in West Africa and also sparked fears that it might spread around the region and the world.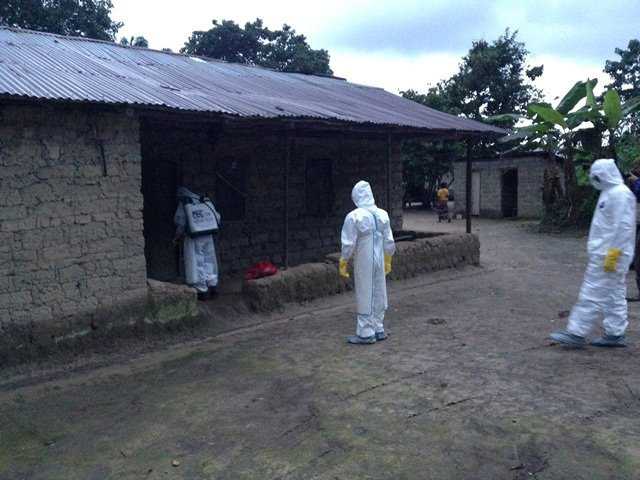 WHO has set up a system of 300 community-based volunteers who monitor the Ebola situation and follow up close contacts of those who were infected. [WHO/T. Jasarevic] 
The World Health Organization(WHO), in partnership with the Ministries of Health in Guinea, Sierra Leone, and Liberia, announced a cumulative total of 1201 suspect and confirmed cases of Ebola virus disease (EVD) and 672 deaths, as of July 23, 2014. Of the 1201 clinical cases, 814 cases have been laboratory confirmed for Ebola virus infection.
The current outbreak began in Guinea in February. Sierra Leone is now the epicenter of the epidemic. The situation is worsening rapidly in Liberia.
Liberian government have closed schools, border crossings and markets in an attempt to curb the spread of Ebola virus.
Some communities would be placed under quarantine and non-essential government workers will be sent home for 20 days, said the Liberian government. And troops will be sent to enforce those measures.
Samaritan's Purse, an international evangelical Christian humanitarian agency, have pulled out its non-essential personnel from Liberia.
The US humanitarian organisation Peace Corps also said it will withdraw its volunteers from Liberia, Sierra Leone and Guinea due to the increasing spread of the Ebola virus.
According to WHO, Ebola, formerly known as Ebola haemorrhagic fever has a death rate of up to 90 per cent. The illness affects humans and nonhuman primates (monkeys, gorillas, and chimpanzees).
The origin of the virus is unknown, but fruit bats are considered the likely host.
"Once a person comes into contact with an animal that has Ebola, it can spread within the community from human-to-human Infection occurs from direct contact (through broken skin or mucous membranes) with the blood, or other bodily fluids or secretions (stool, urine, saliva, semen) of infected people," according to WHO.
Sudden onset of fever, intense weakness, muscle pain, headache and sore throat are typical signs and symptoms. This is followed by vomiting, diarrhoea, rash, impaired kidney and liver function, and in some cases, both internal and external bleeding.
WHO says the incubation period, or the time interval from infection to onset of symptoms, is from 2 to 21 days. The patients become contagious once they begin to show symptoms. They are not contagious during the incubation period.
While there is no specific drug against Ebola, WHO says the best treatment is intensive supportive treatment provided in the hospital by health workers using strict infection control procedures.