Attitudes toward sex changing
China Daily, July 15, 2014

Adjust font size: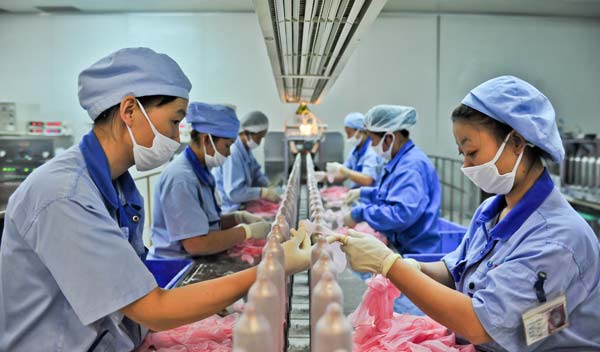 Workers with the Tianjin Human-care Latex Corporation inspect condoms on the production line on Nov 29, 2013. The company produces more than 600 million condoms every year. [Photo / Xinhua]
On World AIDS Day last year, the Shaanxi Provincial Communist Youth League organized volunteer activities to help raise awareness and prevention of the disease. The tradition on Dec 1 across the world included giving out free condoms to passers-by in Xi'an, capital of Shaanxi province.
But three boxes of condoms out of the six that volunteers checked out were returned shortly. A volunteer from Xi'an's Northwest University said people were still embarrassed when she approached them with the condoms.
During the half-day campaign, eight volunteers distributed just 35 boxes of condoms.
It was a similar situation in Chengdu, capital of Sichuan province. A passer-by rejected the condoms from a volunteer, and only four out of 10 people accepted the safe-sex brochures and condoms.
Volunteers in both cities said women were much more reluctant to accept the condoms than men were. One volunteer in Chengdu even reported a woman indignantly rejecting the handouts, saying that she did not have AIDS.
While the scenes in Xi'an and Chengdu seem to reinforce the stereotype of Chinese people's conservative attitudes toward sex, recent developments and trends suggest that they are actually becoming more sexually open.
US-based men's online magazine AskMen last July surprised even the Chinese when it ranked China as the fourth most-sexual country, behind Greece, Brazil and Russia.
The website said that China had won its place due to its sexual revolution, particularly illustrated by the numerous sex shops on its streets.
"In the past eight years, 5,000 sex shops have opened in Beijing alone. Plus, China even has a Sexpo, where Chinese residents come to check out sex paraphernalia," the website said.
Unlike the cold reception from passers-by to the condoms offered by volunteers in Xi'an and Chengdu last December, latest condom production and utilization rates also point to changing sex attitudes among the Chinese.
According to major online research store Research and Markets' latest report on the condom industry in China, manufacturing output of condoms totaled 10 billion in 2013, and the export value of condoms exceeded $90 million. In 2013 the value of condom imports to China was estimated at about $133 million.
The report also said that in China, condoms belonged to the sanitary-products category before 2002, which led to strict government control, low production capacity and limited markets.
Since 2002, the Chinese government has loosened control over the condom industry, which subsequently gained rapid development. Annual output volume of condoms was 1 billion in 1995 and grew to exceed 10 billion in China in 2013.