Changes sought in smoking law
China Daily, July 11, 2014

Adjust font size:

Activists say proposed anti-tobacco measure needs to be more specific

Anti-tobacco activists have called for more specifics in Beijing's legislation on smoking control, which is now under review and expected to take effect in 2015.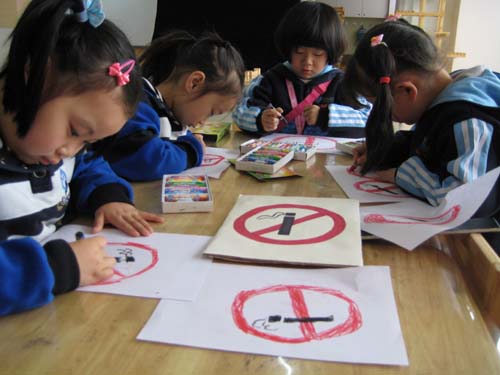 Under the World Health Organization's Framework Convention on Tobacco Control, which China signed in 2003, the law taking shape in Beijing should include more specific articles, said Xu Guihua, deputy director of the Chinese Association on Tobacco Control.
The draft of the smoking control law in Beijing has been sent to the legislature for review and is scheduled to be enacted by next year, said Zhang Jianshu, head of the Beijing Patriotic Health Campaign Committee.
He was invited to take part in the draft review.
"The legislation aims to reduce the number of smokers, their smoking frequency and health impacts by secondhand smoke, particularly in public places," he said.
To facilitate that, Xu is urging lawmakers to more specifically define in the legislation what is meant by "public place".
At places such as sports stadiums and railway and subway stations, a smoke-free "buffer zone" should be extended to 15 meters outside the indoor area, she suggested, citing the large number of people who are usually at or close to entrances and exits of indoor public places.
While there is a growing consensus for a smoking ban at indoor public places, "the concept of a buffer zone outdoors needs further promotion", Xu said.
Outdoor places such as parks, which are frequented by children, should also be smoke-free under the new law, she said.
Cui Xiaobo, a professor of social medicine at Capital Medical University in Beijing, agreed and added that the law ought to clearly ban tobacco sales to minors.
Currently, a ban on sales to minors is included in the law on minor protection, but who is supposed to enforce that is not clearly defined, he said.
A recent survey by the Chinese Center for Disease Control and Prevention found that more than 80 percent of junior school students aged 13 to 15 were never refused when buying cigarettes in the 30 days before the survey.
As the world's largest cigarette producer and consumer, China has more than 300 million smokers. Additionally, at least 740 million nonsmokers, including 180 million children, are regularly exposed to secondhand smoke.
Zhang Jianshu said the coming law should at least be able to protect non-smokers from secondhand smoke.
But he said a step-by-step approach would be necessary to advance tobacco and smoking control in China, citing a longtime dependence on the tobacco industry for tax revenue.
By January, more than 10 cities in China had issued laws and regulations to ban smoking in public places, said Yang Jie, a researcher for the China CDC.
Additionally, the National Health and Family Planning Commission is stepping up its efforts to research a draft law on tobacco control, said spokesman Yao Hongwen.