Beijing mulls 'wind corridors' to disperse smog
Ecns.cn, July 3, 2014

Adjust font size:

Beijing is discussing the construction of wind corridors through the city to deal with air pollution, the Beijing News reports.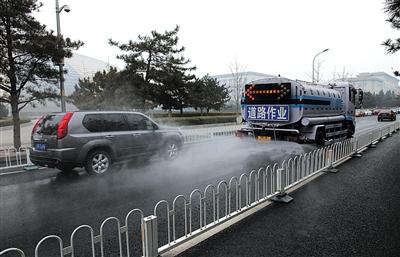 The photo taken on February 21, show a road sprinkler is working along the Chang'an Avenue. [Photo/the Beijing News]
A feasibility study of the project is underway, said Liu Chunlan, a research center leader at the Beijing Municipal Research Institute of Environment Protection. Issues on where to build the corridors and how to maintain them will be discussed, he said.
Liu added that control of building heights and densities along the direction of Beijing's prevailing winds can help disperse pollution and hot air.
Several big cities in China including Shanghai, Hangzhou, Wuhan and Nanjing have started to build ventilated corridors to bring in wind from suburbs to purify air and cool inner cities.
But Yang Baojun, chief urban planner at the China Academy of Urban Planning and Design, said ventilated corridors may be of very limited effectiveness in Beijing, as its urban planning was designed to resist cold and wind.
Concentrations of PM2.5 in Beijing reached 89.5 micrograms per cubic meter in 2013. The city has set a goal to bring down the concentration to 60 micrograms per cubic meter by 2017.