Netizens rail against dog-meat festival
Ecns.cn, June 9, 2014

Adjust font size:

Chinese netizens have taken to social networking sites to lambast a dog-meat festival in Guangxi half a month before it kicks off, with support from several influential Chinese stars, youth.cn reported.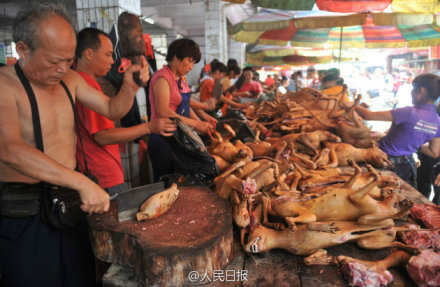 The undated photo shows a man is cutting dog meat at a stall in Yulin, Guangxi. [Photo/the official Sina Weibo account of People's Daily]
The festival falls every year during summer solstice and is a major celebration for citizens of Yulin, a city in the Guangxi Zhuang Autonomous Region.
Animal rights groups say 10,000 dogs are slaughtered every year during the festival.
In the past few years, activists have tried to block the event by appealing to the government.
A group of activists came to Yulin last year and handed out leaflets to local citizens, calling on them to stop killing dogs.
However, some local citizens have defended the festival, saying it's an ancient summer solstice tradition.
A Yulin deputy mayor told Xinhua last year that the city government has never promoted the festival, but that there is no law against it. Furthermore, changing the dietary habits of millions of citizens takes time, he said.
A similar dog-meat festival in Jinhua of Zhejiang province was cancelled in 2011 after photos of slaughtered dogs caused massive protests.