Father's devotion to his 'baby bird' touches hearts
Xinhua, May 26, 2014

Adjust font size: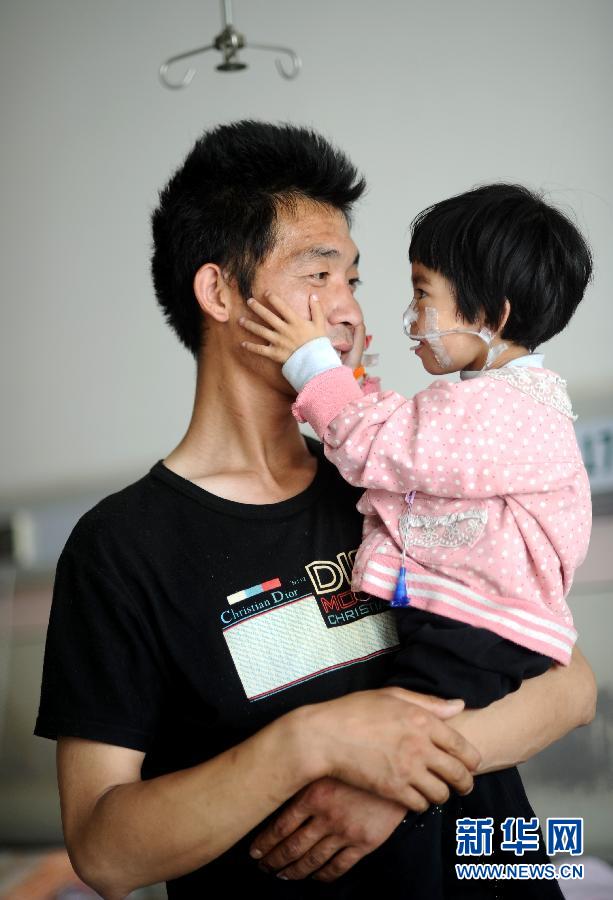 The girl is unable to chew food and suffers from vomiting due to a rare condition. [[photo / Xinhua]
Wang Keran missed out on proper treatment because her father could not afford to pay and her condition worsened.
Doctors are working to improve her nutrition and planning surgery. "The treatment seems promising," said Chen, adding that the hospital handles two or three such cases a year.
"As long as there's a glimmer of hope, I won't give up on her," said Wang Zhihua.
The child relies on a feeding tube to obtain nutritional fluid, but still wants to taste food "processed" by her father.
To give her a taste of real food and help her eat more, Wang Zhihua has continued to feed her mouth-to-mouth. However, his daughter often vomits after trying to swallow her meal.
Ex-serviceman Wang Zhihua makes only 20,000 yuan a year repairing railway lines near his village.
To make matters worse, his parents are in poor health and require a lot of medication.
Earlier this year, Wang Keran became entitled to health care benefits attached to hukou, Chinese household registration.
She failed to obtain a hukou right from birth as her parents never officially registered their marriage. Her mother left home after she fell ill in 2012.
It is unclear how much of the little girl's treatment costs will be covered by medical insurance.
Wang Zhihua says he will give unused donations to charity once his daughter recovers.