Father's devotion to his 'baby bird' touches hearts
Xinhua, May 26, 2014

Adjust font size: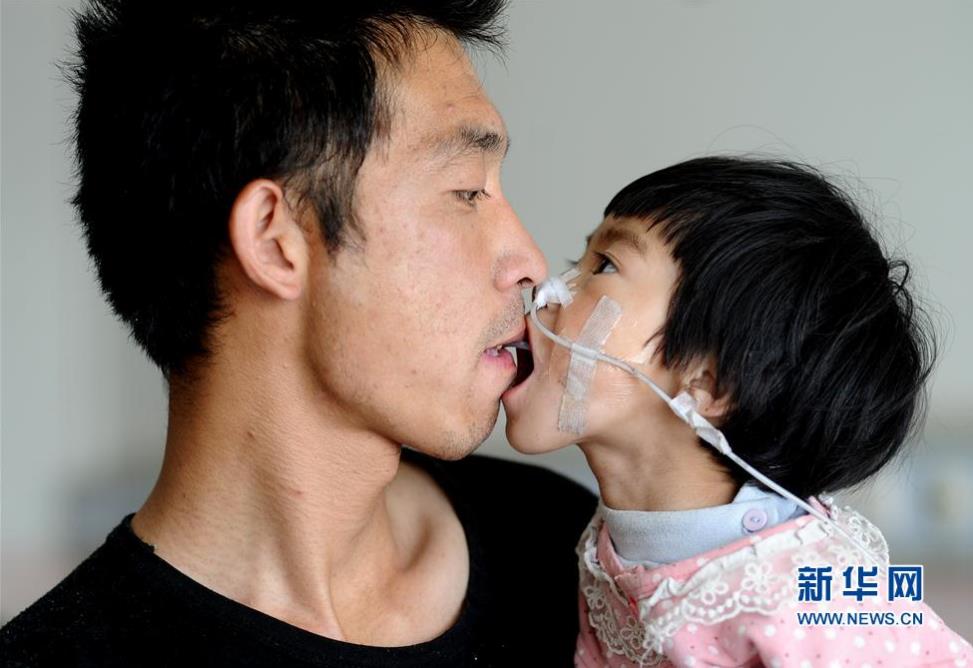 Wang Zhihua feeds his daughter mouth-to-mouth. The single father hopes he can save the life of his daughter. [photo / Xinhua]
Several times a day, Wang Zhihua carefully chews food before passing it open-mouthed to his 3-year-old daughter, who opens her mouth wide like a baby bird.
It is not a novel parenting skill, but a method that the single father hopes can save the life of his daughter, Wang Keran. She is unable to chew food and suffers from vomiting due to a rare condition.
Wang Zhihua, 27, from Zecheng Village, Zuoquan County, in north China's Shanxi Province, has fed his daughter in this way for more than 18 months.
Pictures of Wang Zhihua feeding his daughter mouth-to-mouth and media reports on his struggle to pay for the girl's medical expenses went viral on the Internet last week, drawing admiration and sympathy from the public.
Last week, the little girl, who weighs just 7 kilograms, was admitted to Shanxi Provincial Children's Hospital in Taiyuan, the provincial capital. By yesterday morning, the family had received 170,000 yuan (US$27,258) from well-wishers across the country.
Chen Rui, the girl's doctor, estimated that her treatment may cost between 50,000 and 60,000 yuan. "Luckily, money is not a problem now," Chen said.
Among those helping out is Li Yao, a father in his early 20s from neighboring Shaanxi Province. Li and friends have donated 15,000 yuan.
"My child is the same age and I wept after reading the story. A father's love can be so great," said Li, who has visited Wang Keran.
The little girl has achalasia, a disorder of the muscles of the esophagus that results in difficulty swallowing.
In 2012, she began to vomit severely and her teeth fell out due to malnutrition.