15 dead, five missing in south China rainstorms
Xinhua, May 26, 2014

Adjust font size:

At least 15 people died and five others remained missing after downpours hit south China's Guangdong Province since Wednesday, local authorities said.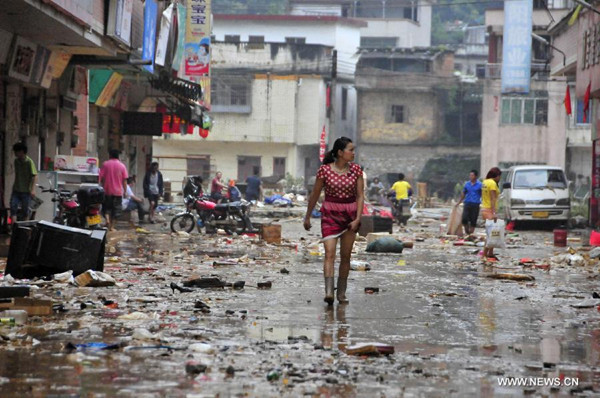 Residents go on the street after a flood subsided in Shitan Town of Qingyuan, south China's Guangdong Province, May 24, 2014. [Photo: Xinhua]
The rainstorms, labelled as occuring once every 100 years, slashed Guangzhou, Zhaoqing and Qingyuan cities and caused floods, house collapses and mud flows, said the provincial flood control and civil affairs authorities.
From 10 p.m. Friday to 5 p.m. Saturday, more than 140,000 people were affected, 21,000 were evacuated and 1,143 houses collapsed, said the provincial civil affairs department.
Since Wednesday, rainstorms in Guangdong have affected 800,000 people and caused emergency evacuation of 60,000 people and collapse of nearly 3,000 houses.
Sixteen national or provincial highways were closed due to the downpours.
Provincial authorities have activated an emergency response system and sent working teams and relief materials to the affected areas.