31 killed, 94 injured in Xinjiang explosions
Xinhua, May 22, 2014

Adjust font size: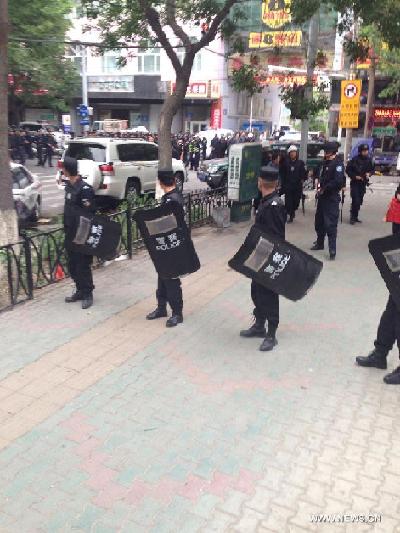 Police officers stand guard near a blast scene, which has been cordoned off, in downtown Urumqi, capital of northwest China's Xinjiang Uygur Autonomous Region, May 22, 2014.  [photo / Xinhua]
A market attack in Urumqi that left at least 31 dead and 94 injured Thursday morning was terrorist violence, according to authorities.
Two vehicles, without license plates, broke through roadside fences and plowed into people at an open air market at Park North Street near Renmin Park at 7:50 a.m. and explosive devices were set off, said a statement issued by the Xinjiang Uygur Autonomous Region's publicity department.
In response to the attack, Chinese President Xi Jinping pledged to severely punish terrorists and spare no efforts in maintaining stability.
Xi asked local authorities to solve the case quickly, put the injured under proper care and offer condolences to families of the victims.
The blast is a "serious violent terrorist incident", China's Ministry of Public Security said. Domestic security chief Meng Jianzhu vowed to "destroy the arrogance of violent terrorists".
A work panel led by Public Security Minister Guo Shengkun has headed for Xinjiang to join the investigation.
All the injured were rushed to hospitals. The regional government has launched an emergency response system and organized medical efforts for treatment of the injured, said the statement.
Witnesses said two off-road vehicles driving from north to south plowed into people in the market. Explosives were thrown before the vehicles exploded.
Many of the injured were elderly people who frequently visited the morning market, according to witnesses.
A business owner in the market told Xinhua he heard a dozen big bangs.