Rich Chinese craze for stuffed polar bears
Shanghai Daily, May 19, 2014

Adjust font size:

Wealthy Chinese decorating their homes, offices and clubs have discovered a new must-have item -- stuffed polar bears.

But the craze has raised fears among conservationists that it could affect numbers of rare animals in the wild.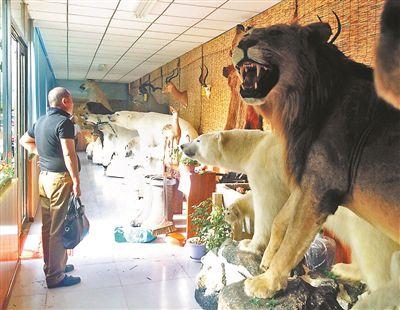 The customer visits the shop of wild animal specimens located on the north 5th ring road in Beijing. [Photo: ynet.com]
Sales of legally imported mounted specimens of polar bears and other animals are booming in a Beijing exhibition hall, reported Beijing Youth Daily.
"Business is going well," a saleswoman at the hall, outside of the capital's northern Fifth Ring Road, told the newspaper.
"One company boss came and bought a 3.3-meter-tall stuffed polar bear for 600,000 yuan (US$96,238) without any bargaining," she added.
And if a polar bear is beyond the means of some customers, then they can buy a stuffed arctic fox for 80,000 yuan.
Among 30 or so lines are complete elk and lions, and the heads of elephants, deer and zebras, reported the newspaper.
The menagerie of stuffed animals had been intended to decorate a night club, but the owner decided to sell them after that plan suffered setbacks, the saleswoman said.
"Prices reflect their endangered status," she said.
The saleswoman claimed the animals were raised in their export countries and after they had died were made into stuffed specimens.
"The animals for sale died of natural causes," she said.
Buyers had various reasons for choosing different species, said a salesman.
One man bought a stuffed wolf to "protect" his family as they were not on friendly terms with their neighbors.
Buyers were also attracted by different traits associated with antelopes. "Those with long horns are regarded as calm and enduring, while curved horns represent dignity and regal traits," said the salesman.
The animals were imported legally from South Africa and Canada through a company in Tianjin which has import permits granted by the State Forestry Administration, the newspaper reported.
Every specimen has a unique collection certificate issued by China Wildlife Mark Center, including its name, producer and other detailed information.
Anyone seeking to import stuffed specimens of animals listed in the Convention on International Trade in Endangered Species of Wild Fauna and Flora must apply to the State Forestry Administration, an official with the agency said.
Trade of other animals can be approved by provincial forestry bureaus.
But conservationists fear the trend could boost illegal trade and affect animal protection efforts.
"Private collections of stuffed animals are against our animal protection efforts," said Xie Yan, an assistant researcher from the Institute of Zoology, Chinese Academy of Sciences.
While some sellers have legal documentation, other people will conduct illegal business, encouraging poaching, she said.
Specimens of wild animals should only be allowed for use in scientific research and education, Xie added.