Grads fall prey to pyramid schemes
China Daily, May 15, 2014

Adjust font size:

College graduates may be lured by get-rich-quick pyramid schemes as scammers take advantage of a record number of job-seekers entering a tight labor market this summer.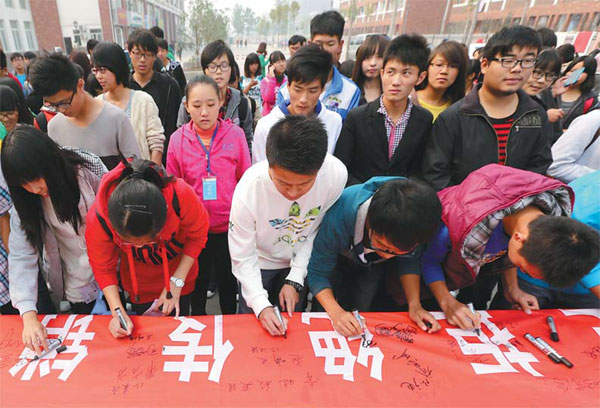 College students sign their names on a banner promising not to participate in pyramid schemes in Huaibei, Anhui province, in March 2013. Students make up more than 70 percent of the members of pyramid schemes. [Photo/China Daily] 
Organizers of the pyramid schemes often fool their victims by offering job opportunities with high returns, low investment and overnight riches, the State Administration for Industry and Commerce said.
"College students are relatively susceptible to being cheated by pyramid schemes because of their lack of experience and fresh entry into the job market," the administration said.
A pyramid scheme typically involves participants' paying an initial fee to join, after which the initiate gets others to do the same. Members make money as a large number of new recruits pay a smaller number of upstream recruiters a portion of the take. Some pyramid schemes involve the promise of goods or services, but these are never really sold.
The schemes often collapse, with the most recent members - the majority at the pyramid's base - are left with nothing to show.
Export trader Liu Ranran's boyfriend (she doesn't want to give his name because she said he cheated a lot of people) graduated two years ago.
For the past two years, she believed he was working hard to start his own express delivery business in Guilin, the Guangxi Zhuang autonomous region, until she was invited to visit his place in Xing'an county in May 2013.
"I arrived there and was soon disappointed as the county was underdeveloped, and my boyfriend shared a shabby apartment with dozens of people - totally different from what he described on the telephone," said Liu, 25.
The boyfriend and his acquaintances took her sightseeing during the first two days without saying a word about their work, Liu recalled.
"On the third day, they started to reveal some secrets of their mysterious activities, claiming that they were investing in a new industry supported by the central government," she said.
The group claimed that an initial investment of 3,800 yuan ($610) followed by a "package investment" of 40 payments of 3,300 yuan each would reap a return of more than 30 million yuan, she said.
Her boyfriend later admitted that he had invested 120,000 yuan in the program - money that he borrowed from relatives and friends under the pretext of buying a vehicle for his express delivery business after graduating from college.
Liu stayed with the group for two months, and they tried to rope her into their scheme, she said.
"My parents were worried about my disappearance, and they went there twice to look for me. The first time the group sent me to another place to avoid the meeting, and the second time my parents paid a surprise visit without calling me. They ran into me on the street and took me home," she said.
After returning home, Liu turned to Li Xu, a veteran anti-pyramid activist for help. Liu later persuaded her boyfriend to return to his hometown and resume a normal life.
"The scammers are artists who can brainwash people into believing that they are pursuing a remarkable business dream and that every participant has a chance to make big money," said Li, who founded the China Anti-Pyramid Association in 2009.
"College students and new graduates are becoming major targets for pyramid scheme organizers nowadays," he warned.
A record number of Chinese university students are expected to graduate this summer - 7.27 million of them - about 280,000 more than the previous year, according to figures from the Education Ministry.
The growing income gap between rich and poor in rapidly developing China makes some of the younger generation easy marks for quick-money scams in a tight job market, Li said.
"In many cases we've handled, college students make up more than 70 percent of pyramid schemes' members," he said.
Li's association has about 20 full-time employees and thousands of volunteers that help provide counseling assistance for more than 1,000 people ensnared by pyramid schemes annually.
With the government's crackdown on the easy-money schemes, the number of cases investigated by the State Administration for Industry and Commerce has dropped from 2,619 in 2009 to 1,677 last year, according to official figures.
In 2007, three ministerial-level departments, including the Ministry of Education, jointly launched a national campaign both on and off campuses that provided information about pyramid schemes.
Zou Lingbo, another anti-pyramid activist, said no students are immune.
He urged universities to strengthen their management of college students and cooperate with professionals to avoid adding to the list of victims.