Flooding exposes Shenzhen's flawed infrastructure
Ecns.cn, May 14, 2014

Adjust font size:

Torrential rainstorms that struck Sunday in south China's Shenzhen city have raised concerns about the city's fundamental infrastructure, according to the Beijing Morning Post.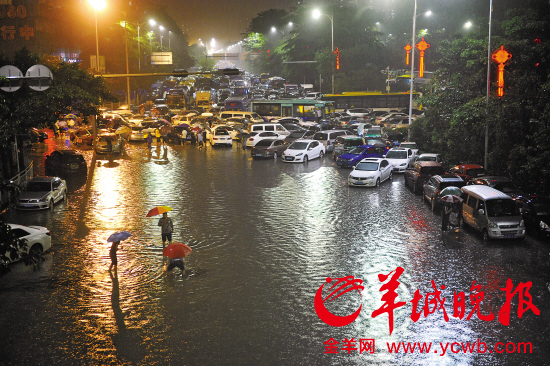 Residents make their way along a flooded street in Shenzhen in south China's Guangdong Province on May 11, 2014. [Photo/ycwb/com]
The rainstorms triggered the city's worst flooding in the last six years, inundating large areas and swamping 2,500 vehicles.
Chen Xiaoyun, a researcher at the city's water affairs bureau, said a poor drainage system was one of the major reasons for the flooding.
"It's a warning to the city, which was not serious about flood protection and water drainage," Chen added.
Huang Xihua, an NPC representative from Guangdong's Huizhou, said some cities over prioritize so-called vanity projects that show off government achievement, but ignore fundamentals such as drainage systems.
"When a heavy rainstorm hits a city that has not paid much attention to its drainage system, floods are very likely to happen," said Huang.