Garbage burning plant project halted after protest
CRI, May 12, 2014

Adjust font size:

The Yuhang district government in Hangzhou, east China's Zhejiang province, has published an announcement on Saturday via its official website stating that it will suspend the construction of a garbage incineration plant in a local village.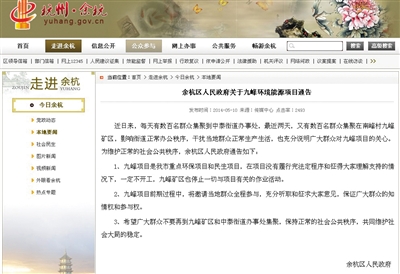 The Yuhang district government in Hangzhou, Zhejiang province, issued an announcement on May 9, 2014, via its official weibo account that the building of a garbage incineration plant will be halted until it gains public support after residents protested its construction. [Photo/Beijing News] 
The announcement also said that the construction of the plant will not begin until it has the support of local residents. Likewise, the project will also go through the required legal procedure, says the government.
The announcement comes after a protest against the plant's construction that has been going on since May 9.
Some 5,000 local residents in the village of Jiufeng in Hangzhou's Yuhang district took to the streets to protest against the construction in a refuse burning facility in the nearby area, the Beijing News reported on Saturday.
Protesters gathered on main roads and highways, obstructing traffic. Local police responded with force, clashing with the protesters, which resulted in at least 10 of the villagers and 29 police officers being injured and hospitalized.
Villagers said that the building site for the garbage incinerating plant is on a deserted stone mine located right next to a number of local water sources that are vital to the production of Longjing green tea, a major income source for residents. Hence, locals protested out of concerns of the environmental impact the plant would have on the area.
The city planning authorities in Hangzhou said in a report from April of this year that the current amount of waste in the city's western district (including Yuhang) has surpassed the city's capacity of waste management.
Therefore, they planned to build a garbage incineration power plant in the village in Yuhang to ease the burden of the city.
Over 20,000 local villagers and city residents, according to the Beijing News, have signed a protest letter against the project in April.