To work first, and then study?
China Daily, April 28, 2014

Adjust font size: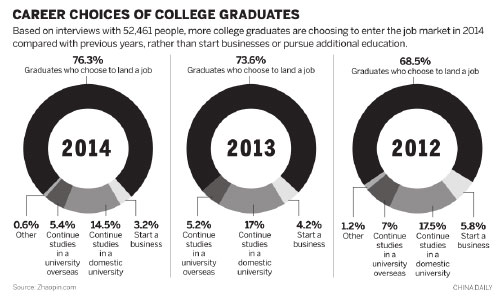 The economic upturn in the past three years in China has given more confidence both to employers and employees, he said.
"Although academic degrees still matter, more and more employers value job seekers' work experience, or in other words, they prefer to hire someone with a bachelor's degree and some relevant work experience rather than someone with a master's degree but fresh out of college," he said.
College students' pragmatic attitude toward qualifications, plus the huge number of college graduates this year, will intensify competition in the job market, he said.
The Zhaopin.com survey showed that each of the respondents sent resumes on average to about 28 potential employers and received five interview opportunities.
The number of college graduates will reach a record 7.27 million this year, up from 6.99 million in 2013, according to the Ministry of Education. By the end of February, 60 percent of the job seekers had clinched at least one offer while the rest were still hunting for work, according to Zhaopin.com.