Shanghai top spot for graduates
China Daily, April 8, 2014

Adjust font size: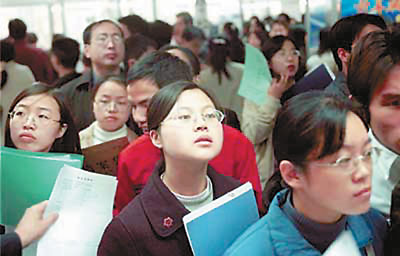 Shanghai top spot for graduates.[File photo] 
Shanghai has eclipsed Beijing as the No 1 place of employment for Chinese university graduates, a recent survey concludes.
The report was released by the career consulting company Universum earlier this month. It polled more than 51,000 soon-to-graduate students from 103 universities across the country to discover their career expectations and preferences and how they perceive employers.
Beijing, Shanghai and Guangzhou, the best known economic engines for China's development, unsurprisingly remained the top three destinations for aspiring graduates.
But Shanghai replaced Beijing at the top spot.
"Shanghai occupies a pivotal position in China's economy, and also has more job opportunities. That attracts more talent here," said Wen Jun, director of the Institute of Sociology at East China Normal University.
"A series of proactive policies, such as the establishment of the Free Trade Zone, makes the city more promising and appealing."
A local university teacher who declined to be named agreed: "Beijing has long been chosen by graduates as the top destination for employment because of its status as the capital and its large development opportunities. But in recent years, the high living cost and bad air have made many graduates give up on it."
Many students are in the same camp. "I prefer to stay in Shanghai and look for a suitable job here, though my hometown is closer to Beijing," said a business major from Shanghai University of International Business and Economics, who identified herself as Li.
"Compared with Beijing, I think Shanghai is a more open and energetic city. Its relatively effective and ordered city management, and its living and working environment attract me a lot," she said.
Experts said the difficulty of getting a Beijing hukou, or permanent residency permit, is another big reason the capital is no longer in first place.
Shanghai has introduced a more flexible policy regarding residency to draw talent. The policy widens the space for individual progress in the city, Wen said.