Mother leases mountain for daughter's education
CRI, April 25, 2014

Adjust font size:

A mother from China's southwestern Chongqing took out a lease last thmonth on e farmland covering a mountain so that her daughter could be closer to nature Chongqing Evening Newspaper reported on Thursday.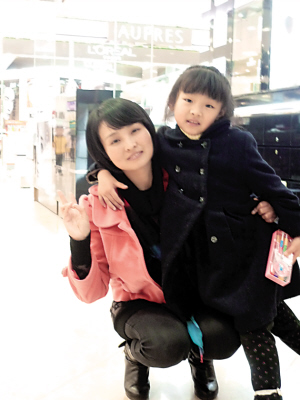 The mother surnamed Gan who took out a lease on the farmland covering a mauntain and her daughter. [Photo/Chongqing Evening Newspaper]
The mother surnamed Gan was a Chinese teacher at a high school who quit her job and became a stay-at-home mom in order to provide care and education for her daughter. The loving mother even organized an essay writing class for her daughter and her daughter's friends so that she could teach her daughter in a classroom environment.
Gan leased the land on a nearby mountain within the province because her daughter was unable to describe peach blossom in one of her essays. "My daughter is too far away from nature. When she was given the essay topic of peach blossoms, the only way for her to finish her assignment was to copy and paste from the Internet," the mother told a reporter with the Chongqing Evening Newspaper. "That's why I leased land on the mountain. I want my daughter and her friends to experience and learn from nature," Gan added.
The mountain, which covers 1.3 hectares, is located in Banqiao village, 30 kilometers north from downtown Chongqing. The land owner has already planted trees, vegetables, and other farm products so that children can enjoy an authentic farming experience.
Some have questioned the mother's decision to spend so much money just so that her daughter could have something to write about. But Gan responded to such criticism, stating, "The mountain is not only for my daughter, it's an investment towards a new teaching approach. It might be a new business opportunity."