Soccer to play key role in schools
China Daily, April 15, 2014

Adjust font size: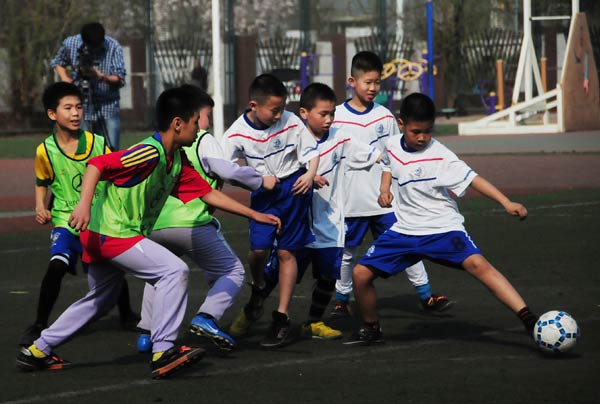 Boys play in a soccer tournament in Hongqiao district, Tianjin. The tournament kicked off on April 1 and involves more than 20 teams from primary and secondary schools in the district. Wang Chen / for China Daily
To help overcome inadequate instruction and training facilities, the Ministry of Education will organize a group of experts to revise the current physical education curriculum for primary and secondary schools, giving soccer a prominent role.
The game will be emphasized in PE courses - from textbooks for theoretical knowledge to the playing field, an official said.
"The lack of facilities for students to play soccer on campus has emerged as a major obstacle, while the shortage of qualified physical education teachers and teaching materials seems to be another concern," said Wang Dengfeng, director of the PE, Health and Art Department at the Ministry of Education, at a youth soccer forum on Sunday.
In an effort to stimulate participation in soccer from the grassroots, China's education and sports authorities are continuing the annual Chinese School Football Champions Cup, which kicked off its third season over the weekend. But infrastructure, faculty and curricula still lag behind, representatives said at the launch of the tournament.
Wang was elected vice-president of the Chinese Football Association in January with hopes that his presence will break barriers between the country's professional sports teams and its school systems.
By the end of 2013, only 20 percent of the 1,148 primary and secondary schools in Beijing were equipped with a full-size soccer field, according to a survey released by the Beijing Education Association's PE research board in March.
There was also an urgent need for more than 1,000 physical education teachers in Beijing, the survey showed.
"With the shortage in a metropolis like Beijing or Shanghai that's this serious, how can we expect better in our country's large rural areas?" Fan Zhiyi, the former national soccer team captain and a current youth development promoter, said during the recent FIFA World Cup Trophy tour in Beijing.
Policies guaranteeing that PE teachers receive equal wages, welfare benefits and job advancement prospects - as academic teachers do - will be put in place to lure more retired athletes and college graduates to take coaching roles in schools, Wang said.
To promote students' participation, soccer dribbling and volleyball passing will be included in the PE test section for senior high school entrance beginning in 2016 in Beijing, under a recent regulation published by the Beijing Commission of Education.
In addition to long-distance running (1,000 meters for boys and 800 meters for girls) and solid-ball throwing, which measures stamina and strength, students will be asked to select one event - basketball, soccer or volleyball - in which to have their skills assessed in the PE test, which currently counts for 40 points in the 580-point entrance exam.
In 2016, with the addition of the two new events, PE will account for 50 points.
The adjustment was made two months after Yang Jun-sheng, secretary-general of the Beijing Football Association, made the proposal at the Chinese Football Association congress in January.
Renowned youth soccer coach Jin Zhiyang supported the decision, saying that it will inspire more schools to promote the game on campus.
"The traditional youth cultivating system that has been affiliated with professional clubs and local sports bureaus didn't work well for including as many children as possible," said Jin, former coach of Chinese Super League team Beijing Guo'an and mentor of Beijing Institute of Technology FC, champion of the Chinese collegiate league.
"Soccer development should rely on the educational system to reach students who spend a majority of their time in schools. If we don't make it happen on campus, how can we make any progress?" Jin asked.
Under the Chinese School Football program, the nationwide youth soccer campaign has expanded to 113 cities covering 5,049 schools with 190,000 student players registered at local sports and education authorities since 2009, said Lin Xiaohua, vice-president of CFA.
"We've made some achievements, but we are still far away from realizing the dream of becoming an international soccer power in the future," said Lin at the World Cup Trophy Tour in Beijing.
The CFA will continue to work closely with the Ministry of Education to build a channel system connecting primary and secondary competitions, collegiate tournaments and professional leagues for talented students to grow continuously, Lin said.
Under the draft plan for the long-term development of Chinese soccer that was unveiled at the congress, the number of teenage soccer players should surpass 500,000 by 2017 and reach 1 million by 2022.