Move to curb drugs in schools
China Daily, March 21, 2014

Adjust font size:

China's education and healthcare authorities have kicked off a campaign to inspect kindergartens, primary schools and high schools nationwide to see whether students have been given illegal medical treatment or unsafe food.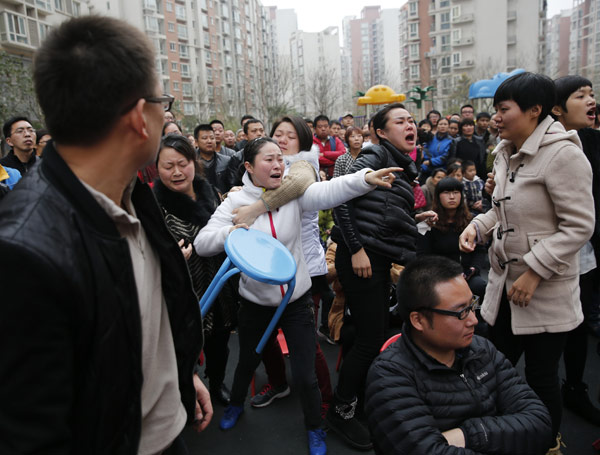 Angry parents come to a private kindergarten in Xi'an on Tuesday to demand an explanation about drugs they say were given to their children. The local government sent a team to the kindergarten to investigate. [Photo/China Daily]
The inspection, which will run through April 10, was announced on Tuesday by the Ministry of Education and the National Health and Family Planning Commission. It comes in the wake of news that some kindergartens in Hubei, Shaanxi and Jilin provinces illegally administered prescription drugs to children.
The kindergartens were accused of giving children moroxydine, a drug that fights the flu virus, without informing their parents.
Adding to concerns, two children died on Wednesday of rat poison at a private kindergarten in Yunnan province.
Zhang Jianrong, associate professor at Shaanxi Police Professional College, said the administration of unauthorized medicine to thousands of children, if true, violated criminal laws prohibiting the endangerment of public safety.
Two kindergarten owners in Yichang, Hubei province, were arrested; five suspects were arrested in Jilin.
On Wednesday, Premier Li Keqiang called for tighter management of schools to prevent similar cases in the future.
In Guangzhou, Guangdong province, 76 percent of the 1,601 kindergartens are supported by private funds, according to the city's education bureau.
Education bureaus in each of Guangzhou's districts launched inspection campaigns on Thursday that will run through April 7, when they expect to provide their findings to the city bureau, according to a statement by the top bureau.
The question of administering drugs to children is complicated by the fact that some herbs are classified as both food and medicine.
Kindergartens in Guangzhou, for example, commonly give children herbal drinks, in line with the weather. The herbs are supposed to provide better internal balance of body chemistry.
Such drinks are allowed if the herbs used are classified as both food and medicine by health authorities, the education bureau said. Herbal drinks to combat flu are also acceptable if they are approved by experts and if parents are informed.
Children at Zhisheng Kindergarten in Guangzhou are given herbal drinks once a month, according to the school's president, Kang Suying. Parents are informed of the procedure by listing it in the menu for children that is posted on the information board at the kindergarten.
The healthcare worker administers other medicine only if written instructions are provided by a child's parents. The kindergarten does not accept health supplements, herbal drinks or traditional Chinese medicines from parents, Kang said.
The city government of Jilin in Jilin province checked out 1,057 kindergartens and didn't find any misuse of medicine as of Thursday afternoon, officials said.
Meanwhile, Wuhan, Hubei province, which accommodates 203,400 children at 888 kindergartens, has also begun inspections. It will check 74 kindergartens daily until April 4.