Doctors consider separating conjoined twins
China Daily, March 14, 2014

Adjust font size: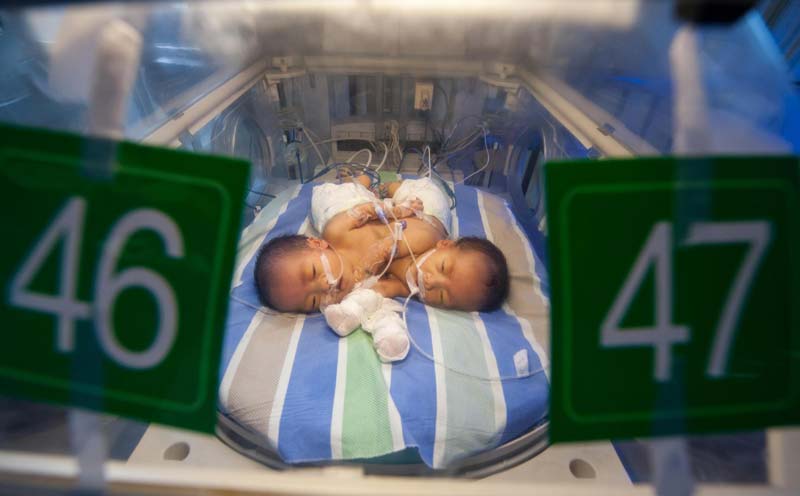 Conjoined twins rest in an incubator at Xinqiao Hospital in Chongqing, March 12, 2014. [Photo/Xinhua]
Infant conjoined twins lie fast asleep in an incubator at a hospital in Chongqing, but outside the ICU, their father Yu Xiaojiang paced back and forth and could not find peace.
The twins, weighing a total 4.3 kilograms, were born in Chongqing on March 4. Their chests and bellies were conjoined together, Chongqing Morning Post reported. One of the babies also has a severe harelip and suspected heart disease.
Yu, 22, a farmer, and his 18-year-old girlfriend, Liu Dongmei, have experienced the extremes of joy and horror in the past few days.
After hearing it may take hundreds of thousands of yuan to perform a separation operation and possible complications, the father decided to give up treatment and took them back home. The young mother said nothing about the decision.
But his sons' crying made Yu restless. Finally he changed his mind and sent them to Xinqiao Hospital in Chongqing, where several similar operations have been successfully performed.
"I sent them for treatment. Even if only one of them can be saved, that is my biggest wish." Yu told the post.
After media reports, many people gave donations to the couple. Some called or visited them to offer encouragement.
Currently the twins are in stable conditions with slight breathing difficulties.
Next the twins will get nutrition and breathing support from the hospital. Whether they can be separated is up to the conditions of their organs, the hospital said.