10 tips to minimize haze's influence on health
People's Daily Online, February 24, 2014

Adjust font size: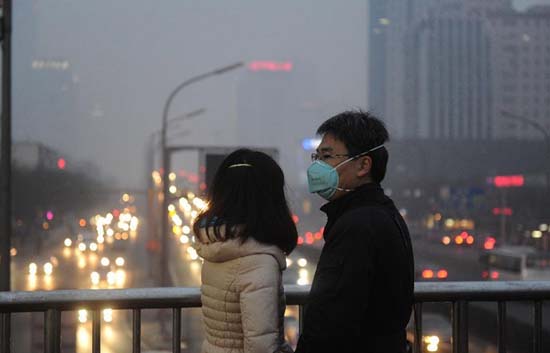 People wearing respirators are seen on a pedestrian bridge in downtown Beijing, capital of China, Feb. 22, 2014. (Xinhua photo)
Thick smog shrouding Beijing and its surrounding areas has become heavier as the capital raised its four-tiered alert system to orange.
The smog has covered about 1.4 million square kilometers of central and east China since last Friday. Beijing and Hebei, Shanxi, Shandong, Henan and Liaoning reported "severe haze," according to satellite remote monitoring by the Ministry of Environmental Protection.
Data from the ministry shows the levels of PM2.5 particles in 19 cities are above 150 micrograms per cubic meter, compared with 75 micrograms per cubic meter, China's air quality standard. Beijing and six other cities saw "severe air pollution" with their PM2.5 readings above 250, according to the data.
PM2.5 particles are particles with a diameter less than 2.5 microns, which have been a major contributor to the smog shrouding China in recent years.
Heavy air pollution in Beijing and part of its neighboring Hebei Province will last until at least Thursday this week when strong cold air will bring rain and wind to disperse it on Feb. 26, the ministry said.