Rule change may spark baby boom
Shanghai Daily, February 24, 2014

Adjust font size:

An extra 20,000 babies could be born over the next three years if Shanghai's authorities adopt proposed changes to the nation's one-child policy, a population expert said yesterday.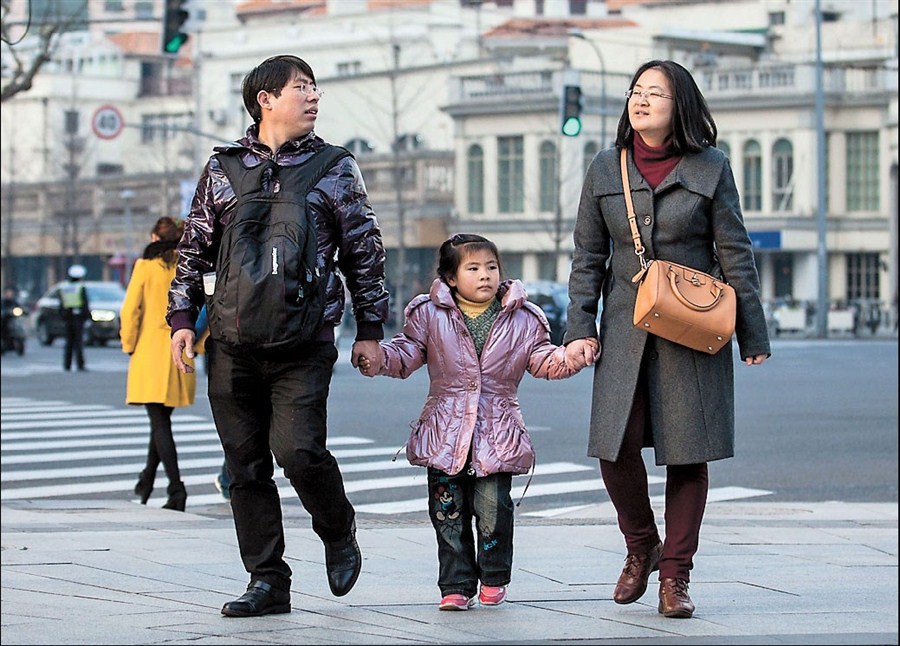 A family takes a walk along Nanjing Road in downtown Shanghai yesterday.[Photo/Shanghai Daily]
There would certainly be a sharp rise in the short term, though that would later plateau as many couples in Shanghai don't want children, Zhou Haiwang, deputy director of the Institute of Urban and Population Development Studies at the Shanghai Academy of Social Science, said in an interview with the Oriental Morning Post.
The population structure of Shanghai is severely unbalanced, which is why it is one of the nine areas that will be allowed to make changes to the one-child policy, Zhou said.
The low birth rate in the city has resulted in an aging population. Over the past decade, the rate has fallen to just 0.86 children per couple, compared with the national average of about 1.5, he said.
Under the proposed amendments, Shanghai couples that have at least one spouse from a one-child family will be allowed to have a second child. The city's lawmakers will consider the draft changes today, and if passed the new rules will take effect immediately.
Due to the impact of the one-child policy in the 1980s, over the coming five years the number of women of prime childbearing age in Shanghai is set to fall by 30 percent, Zhou said. That means from 2016 onward, the number of babies born each year will fall dramatically.
The introduction of the new rules will go some way to countering the effects of that decline, but it will not provide a total solution. While some parents will be delighted to be able to have a second child, others will be less enthusiastic, Zhou said.
Many parents will simply be unable to carry the financial burden of a second child, he said.
Unlike in rural areas, where people raise children so they have someone to take care of them in old age, couples in Shanghai instead rely on health insurance and pensions.
To motivate people to procreate, Zhou suggested the city government include all families within the benefit system currently offered only to one-child households. For example, one-child families are paid a one-off 5,000 yuan (US$820) subsidy when they retire and are given a 30 yuan monthly subsidy from their child's birth until they turn 16.
Zhou said he also favors bigger families. Having two children is not only good for the population, but it's also much better for the youngsters' development, he said.