Zhang pays family planning fine in full
chinadaily.com.cn, February 8, 2014

Adjust font size: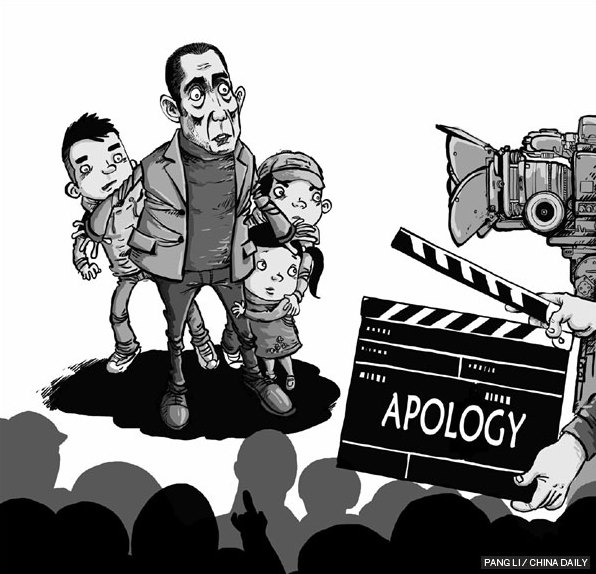 Zhang Yimou, a well-known Chinese film director, has paid in full the fine for having violated the family planning policy, a local authority said in a statement issued Friday.
The Population and Family Planning Bureau of Binhu district of Wuxi, Jiangsu province, where Zhang and his wife Chen Ting live, said on a Weibo account on Friday afternoon that it received 7.48 million yuan ($1.23 million) via bank transfer from Zhang and his wife at noon that day.
Zhang and his wife were fined after he acknowledged in December they had parented two sons and a daughter.
The couple violated the country's family planning law by having three children before marriage and without permission for the births, according to the bureau.
The total amount was calculated based on the couple's income and the cost of social maintenance. It included fines and social maintenance fees.
The bureau had sent nine investigation teams to several cities to collect evidence related to the couple's income since November.
Zhang and Chen also signed a document verifying their income.
They were required to pay the fees in full within 30 days from Jan 9, or apply for an administrative review or ap-peal.
In an interview with Xinhua News Agency on Dec 29, the couple admitted to giving birth to two sons in 2001 and 2004, and a daughter in 2006 before they officially married in 2011. They said they fell in love in 1999.
Chen said they delayed getting their marriage certificate because of concerns that Zhang's identity could be exposed during the process.
Zhang, one of the "fifth-generation" of Chinese filmmakers, made his directorial debut in 1987 with Red Sorghum and has won numerous awards worldwide. He was also chief director of the opening and closing ceremonies of the Beijing Olympic Games.