Premier visits Shaanxi resettlement homes
chinadaily.com.cn, January 27, 2014

Adjust font size: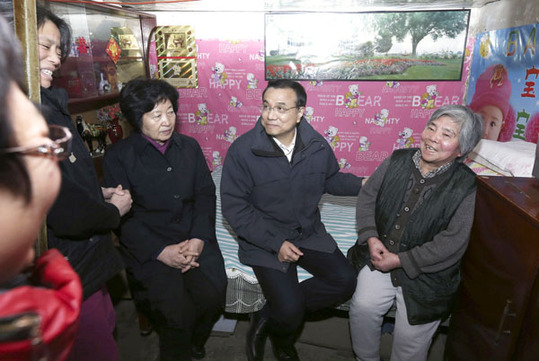 Chinese Premier Li Keqiang visits Tianjin and talks with local residents in this file phto dated on Dec 29, 2013. [Photo/Xinhua]
Premier Li Keqiang visited a poverty-stricken county in Shaanxi province on Sunday, highlighting the government's ongoing efforts at poverty alleviation, which were adjusted on Saturday with the issuance of new national guidelines.
A key stop on Li's trip was the new home of Chen Yongjin in Xunyang county. Chen, a former farmer from a mountainous area, moved out of his earth-built dwelling into a resettlement community in October, bringing his family with him. His new apartment is in the Garden Community in Xunyang county, a resettlement community built for former mountain dwellers as part of government efforts to resettle isolated people in urban areas.
Chen said the transportation and water supply at Garden Community are much better than in his previous home, which was located in the middle of a mountainous area. "I used to travel along more than 10 kilometers of mountain paths to do my shopping," he said.
The new community is able to accommodate about 4,716 residents, relocating them from poor, isolated villages to purpose-built accommodation in the lowlands. According to the relocation project, residents living in remote areas or areas with frequent natural disasters are qualified to move into government-subsidized relocation communities built and sold at cost price.
Chen said he spent 120,000 yuan ($19,838) on a two-bedroom apartment, and the government subsidized his purchase with 40,000 yuan. Factories have been set up around the community, offering job opportunities to former mountain dwellers who decide to give up farming.
Jiang Weijie, Party chief for the Yungaisi township, where the Garden Community is located, said most of these factories are labor-intensive. A nearby embroidery factory has provided training to more than 2,000 women in the surrounding communities and offered about 140 job opportunities.
He said managing a community of resettled residents is a lot easier than managing farmers scattered in isolated villages — as well as being cheaper.
"We had to build a road and provide electricity supply even if there are only three households living on a peak. The money can now be saved by building public utilities in one place," he said.
The government issued a national guideline for poverty alleviation on Saturday. Under the new guidance, Chinese officials in poverty-stricken counties are no longer required to pay so much attention to regional GDP figures, as central authorities prioritize poverty alleviation efforts.
The country will reform the evaluation system for officials from poor counties by prioritizing the work of poverty reduction rather than focusing on regional GDP, according to a guideline released jointly on Saturday by the Central Committee of the Communist Party of China and the State Council.
GDP figures will no longer be used as a standard measure for counties with fragile ecology or where development is restricted by the government to ensure sustainable growth, the guideline says.
"The country will consider improving the livelihoods of people in poverty and reducing the numbers of poor people as major indicators," it said.