Top court seeks judicial transparency
China Daily, January 9, 2014

Adjust font size:

Work report in English will be published each year to help promote understanding 

The top court is to publish an annual work report in English to give the world a better understanding of China's judicial system and to reduce misunderstandings, a senior court official says.

Following the warm public response to the release of the first English-language work report in late November, the court has decided to make it an annual practice, Hu Yunteng, director of the research department of the Supreme People's Court, told China Daily.

The report has three sections: law enforcement and case adjudication, innovation in management, and reform and development. The first part mainly covers criminal, civil and commercial trials and also deals with national compensation and petition work.

"We've done a lot in recent years to make the court system more fair and independent, although there are still problems," Hu said.

"But because of language barriers, foreigners know little about the progress. They see more negative reports from the foreign media about China's judicial system."

For example, he said, some foreign media repeatedly report on unfair court verdicts. "But the fact is that more than 91 percent of litigants in all lawsuits in 2012 were satisfied with the verdict after the first trial. The rate increased to 99 percent after the appeal trial."

Chief judge paves way for reforms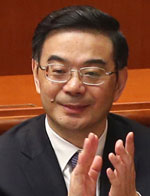 Zhou Qiang, president of the Supreme People's Court, piloted a program to use new media to promote court transparency

Zhou Qiang, 54, launched a series of reforms after being appointed president of the Supreme People's Court in March last year, with judicial transparency and correction of wrongful judgments the focus of his work.

He piloted a program to use new media to promote court transparency.

In November, the top court heard a high-profile case concerning unfair business practices between Chinese Internet giants Qihoo 360 and Tencent. It broadcast the trial on television, micro blog and WeChat, a mobile social networking app.

Zhou said in October that each court should pay attention to public opinion and release trial information through newspapers, television and social media, such as micro blogs, to improve judicial credibility.

Wang Zhenmin, dean of the law school at Tsinghua University, said, "He likes to try new things, and his legal background makes professional communications much easier," adding that he is impressed by Zhou's way of thinking. 

Wang took foreign law professors, including several from Harvard University, to call on Zhou last year and was given a warm welcome.

"Zhou showed his willingness to learn, and his English is pretty good," he said. 

Zhou, a law major postgraduate from Southwest University of Political Science and Law, began his career at the Ministry of Justice in August 1976.

CAO YIN 
Hu said the top court hopes that foreigners can be better informed with an English-language work report.
"China's judicial system is different from that in Western countries," he said. "They (the Western world) sometimes require us to do the same as they do, which is a sort of lack of understanding of China."
"What we want is to tell foreigners that there are diverse judicial modes in the world, and hope they can understand Chinese judicial policies better," he said.
With plenty of data and graphics, Hu said the English-language report could be used as authoritative material for overseas law specialists to study China's legal system.
Liu Ze, an officer at the top court who coordinates the publication, said it took almost a year to prepare for the report in English. A similar report was published in Chinese in March.
"Although the English report was translated from the Chinese one, we provided more legal background for each section so that foreigners can better understand the content," Liu said. 
The 2012 work report's edition in English can be bought at bookstores, while the top court has begun to draft a new one, introducing court work in 2013. 
"We'll do the English work report every year, hoping it can be posted at the end of March the following year," Hu said. 
The top court has sent some copies of the English-language report to foreign embassies in China and the response has been warm, Liu said.
Yang Lin, a Beijing lawyer specializing in international cases, said she will buy some of the reports and place them in her office as an introduction to Chinese judicial affairs.
Such documents could be useful when talking to foreign clients who want to invest or work in China, Yang said.
She said she hopes the court will issue more documents in English covering different legal sectors or typical lawsuits, as most foreign clients care more about their own disputes than the Chinese judicial system in general.
Translation difficulties 
The launch of the English-language version was not easy. 
Work on it took four experienced translators from the China Foreign Language Publishing Administration almost a year. The administration is also responsible for translating documents from other government authorities, according to the top court.
"It's hard for us to translate these legal articles with Chinese characteristics," said Wang Mingjie, one of the translators with more than 40 years' experience. 
Liu Ze said the court initially wanted the translators to complete translation of nearly 40,000 Chinese words within two months.
"But we never expected this to be suspended for more than six months," Liu said.
The report was then split into four sections, with each revised at least 10 times by the translators, he said.
For the translation of every judicial term, judges in charge of the Chinese-language report at the top court provided the translators with a written-text explanation "which was about 80,000 words, more than twice the number in the Chinese edition", Liu said.
For example, he said, the translators asked many times what the term "procuratorial supervision" means, as it has several meanings in English. It generally means that prosecution authorities can supervise police and courts in criminal cases to ensure there is no abuse of power.
Wang said explaining these judicial terms took up most of their time.