Xuelong makes successful escape
Xinhua News Agency, January 8, 2014

Adjust font size:

Trapped Chinese research vessel and icebreaker Xuelong made a successful escape through heavy sea ice at 18:30 Beijing time (1030 GMT) Tuesday.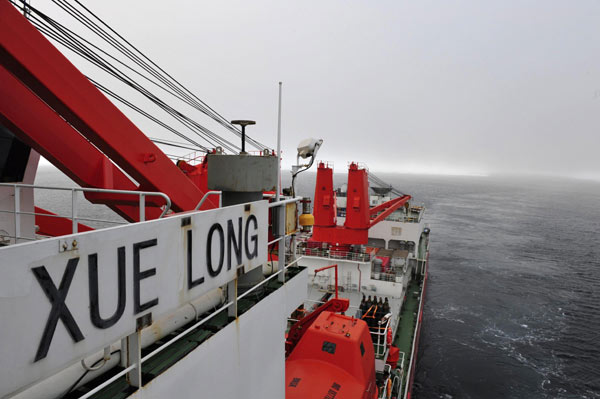 The Chinese icebreaker, Xuelong, broke through the Antarctic's heavy ice floes at about 6 p.m. on Tuesday and was headed for open water.[Photo/Xinhua] 
Xuelong, or Snow Dragon, has been making consistent efforts to "veer around" the whole day while navigating through thick floes.
The vessel had a difficult time trying to make a turnaround rightward, which started at 5 a.m. Beijing time (2100 GMT Monday), because of the thick ice and the snow covering the floes.
No breakout was made until about 17:50 Beijing time (0950 GMT) when Xuelong pulled a 100 degree turn and strongly pushed away the ice. Under the huge blow, a big floe right ahead suddenly split up and a channel of open waters showed itself. Xuelong quickly voyaged through the channel and broke free of the ice.
The Chinese research vessel and icebreaker, which was on China's 30th scientific expedition to Antarctica, on Dec. 25, 2013 received a distress signal from the Russian ship MV Akademik Shokalskiy which was trapped in Antarctic sea.
Xueying-12, a helicopter on-board Xuelong, last Thursday successfully evacuated all the 52 passengers aboard the Russian vessel to the Australian icebreaker Aurora Australis.
However, after the rescue, Xuelong's own movement was blocked by a one-km-long iceberg which was continuously drifting northwest. Xuelong attempted to maneuver through the ice after the giant iceberg drifted away, but its breakout early Saturday morning was unsuccessful.
For these days, Xuelong's being stranded in heavy sea ice in Antarctic Ocean has drawn great attention from the Chinese leadership and the Chinese people. Under the directions of an emergency relief working group aboard, the Xuelong crew have been working in joint efforts to find a way out.
Currently, Xuelong is on voyage in open waters in the Southern Ocean where only a few floes drift on the sea surface, at approximately 66.45 degrees south and 144.50 degrees east. The ship, now sailing at a speed of 9 knots, continues its scientific expedition to Antarctica.