Students Urged to Practice Foreign Tongue
China Daily, November 28, 2013 Adjust font size: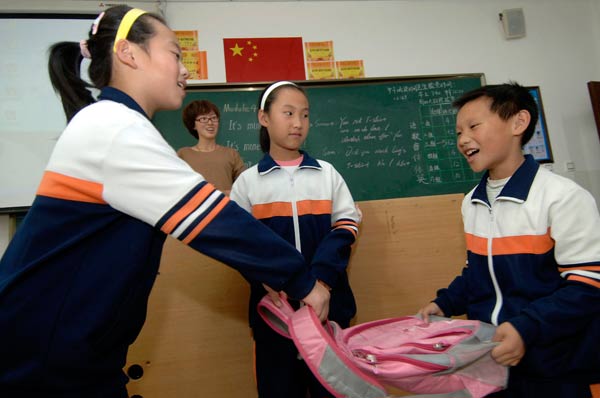 Students work on situational dialogues at an English class in a middle school in Weihai, Shandong Province, in this file photo. [Xinhua]
As part of an activity organized by the British embassy's cultural and education office this month, students at Shanghai Jiao Tong University had to face foreign chefs when they lined up in the canteen for lunch.
Dare to Speak, organized in Chinese universities and schools, aims to encourage students to speak English as much as possible.
Lyu Hui, product manager of IELTS (the International English Language Testing System) in China with the British embassy, said they hope to encourage more English learners and IELTS takers in China to speak and practice more through real-life scenarios.
"Many Chinese students are nervous and shy when talking to foreigners, although many were actually willing to speak," she said. "They don't know how to start an easy and carefree conversation."
At Shanghai Jiao Tong University, the students had to order their food in English from the foreign chefs, played by two international students.
"The chef asked me, 'What would you like?' I told him I wanted some Italian pasta," said mathematics major Christina Chen. "The conversation was light. It was interesting to order food in English."
Song Jiahao at the university's mechanical engineering school said he had learned a lot about English in class, but had few chances to practice in real life.
"We use English in a limited way, except when we start to look for a job," he said. "Only under such circumstances, of evoking real-life situations, can we boost our speaking skills.
"This event allowed us that opportunity. I think it's a useful and effective way to improve our speaking skills."
A similar activity was held at No 2 High School Affiliated to Beijing Normal University, with students encountering a "foreign owner" of a grocery store.
"The result was positive," said Alex, an actor from London who played the shopkeeper. "Of course, not all of them liked to talk to me, but at least 30 percent did."
The English-speaking level of the students is good, but not good enough, he said. "After all, they are not native speakers."
IELTS is a standardized test of English-language proficiency.
In recent years, the number of IELTS test-takers in China has enjoyed double-digit growth annually. This has largely resulted from the surging tide of Chinese students seeking overseas study, according to Lyu.
She also said the oral score of Chinese IELTS test takers had been stable, with an average 5.3 points out of a possible 9. The typical entry requirements for overseas schools is about 6.5.
"We'd like to tell English learners that to learn the language means more than taking exams. Communication is of greater importance," Lyu said.
"In this event, we want to encourage more Chinese students to speak English confidently through creating real-life scenarios for conversation."