Shenzhou X Crew Awarded for Outstanding Service
Xinhua News Agency, November 4, 2013

Adjust font size: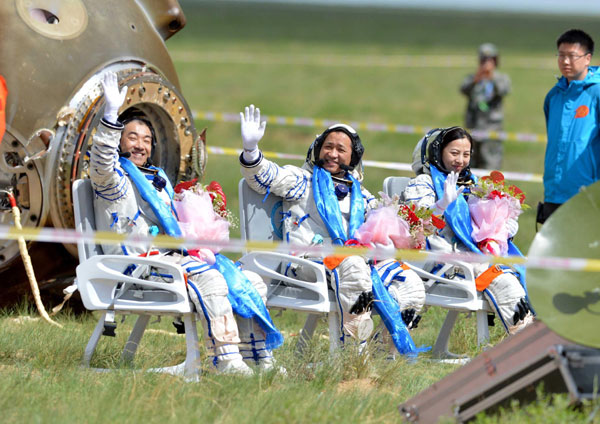 Astronauts (L to R) Zhang Xiaoguang, Nie Haisheng and Wang Yaping wave to the welcoming crowd after they go out of Shenzhou X spacecraft's return capsule on June 26. [Xinhua]
Three astronauts who completed China's longest manned space mission have been awarded for their outstanding service to the country's space programs.
The Tsang Hin-chi Space Development Fund decided to award Nie Haisheng, Zhang Xiaoguang and Wang Yaping for their contributions in China's manned space program. They were the crew members of the Shenzhou X manned space mission.
More than 50 scientists were also awarded by the fund.
Tsang Hin-chi, the chairman of Goldlion Holdings Ltd, spent 100 million HK dollars (US$12.9 million) to establish the Tsang Hin-chi Space Development Fund in 2004. Its goal was to attract more people to Chinese space programs.
Shenzhou X was sent into space on June 11 and returned to Earth on June 26.
During its 15-day journey, Shenzhou X docked with the orbiting space lab Tiangong-1 twice, once automatically and the other manually.
The astronauts spent 12 days in Tiangong-1, where they conducted space-specific medical experiments, technical tests and delivered a lecture to students on Earth about basic physics principles.