3-D Printing Development May Be 'Problematic'
China Daily, August 13, 2013 Adjust font size:
Although its application in the technology sector has given 3-D printing a high profile, a number of Chinese entrepreneurs and investors have expressed a pessimistic view of its likely development in the near future.
"Some people have said that 3-D printing will bring about a manufacturing revolution, but that's an exaggeration," said Ru Fangjun, founder of HangZhou Xundian Technology Co, which deals in 3-D printing devices in Hangzhou, Zhejiang Province.
Ru has been keeping an eye on the prospects for 3-D printing for two years. In 2011, he opened a 3-D photo studio in Hangzhou, producing models for clients at a price of 2,000 yuan (US$326) per item. Business was slow, though, and so Ru closed the studio after just eight months.
"On average, I only had one deal a week, which was far from enough to make ends meet," he said. Even though Ru wasn't doing much business, a large number of people still visited his premises. However, they weren't interested in printing their 3-D models, instead they were searching for investment opportunities.
"Most of them were wealthy businessmen who were interested in the concept of 3-D printing but didn't know much about the industry. I received a lot of visitors. In some extreme cases, more than 20 a day," said Ru.
As a result, he changed course and started a new business, developing and selling 3-D printers, a far more profitable venture.
"It is a promising market, but the price advantages it offers will only beat traditional manufacturing modes if the production quantity is small and the structures made are complex," said Ru.
One typical application of 3-D printing that Ru mentioned is the manufacture of dentures. The process is well suited for this purpose, because the goods are individually customized and the scale of production is small.
For Chen Xuan, general manager of Daye Laser Co of Shenzhen in Guangdong Province, the industrial purpose of 3-D printing is more about testing new ideas than producing functional parts.
"Because of the lack of materials, 3-D printing is, in most cases, used in the production of mockups," he said, referring to a scale or full-sized model of a design or device used for teaching, demonstrations, design evaluation and promotions, among other purposes.
"In some countries, 3-D printing is used in customized manufacturing, but the domestic manufacturing industry has not reached this stage," said Chen.
According to reports, the use of 3-D printing and ultrasound techniques have enabled a Japanese company to generate 3-D printouts of a fetus, allowing the parents to see their baby before the mother has even given birth.
Boeing has used 3-D printers in the manufacture of more than 20,000 parts, which have been used in 10 different types of military and commercial aircraft, including the A380 Dreamliner, the world's largest passenger jet.
In China, however, the development of 3-D printing is limited by two factors, according to Chen.
First, the technique is only really suitable for small-scale production at present, when the costs are lower than those of mass production.
Second, China imports most of its 3-D printers and materials. That raises the cost of production and narrows the price margin between 3-D printing of products and traditional modes of manufacturing.
The market outlook is promising in the fields of design validation and sample custom-making, but in the short term, the high price still limits its potential popularity, according to an investment evaluation report published in July by S&P Consulting in Beijing.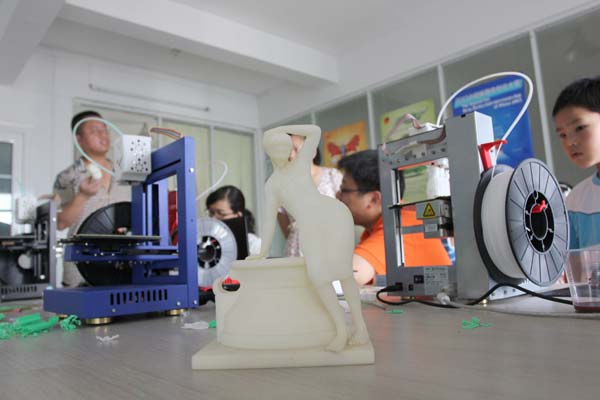 Children use 3-D printers at a science fair hosted by a company in Wuhan, Hubei Province. [China Daily]