Ministry Issues Ban on Vacation Homework
China Daily, July 10, 2013 Adjust font size:
Experts applaud effort to give young primary school students more free time
In a controversial move, the Ministry of Education has banned written assignments for first and second-grade primary school students across China this summer vacation.
A notice released by the ministry on Friday said those students will not be given vacation homework, so they have more time to experience nature and participate in social activities.
The notice also said no primary school or any teacher may organize cram schools during the summer vacation, and parents should be reasonable in the interest classes they select for their children.
Some experts voiced support for the new regulation.
An Xuehui, a researcher with the National Center for Education Development Research, said the new regulation is in line with the goal of alleviating pressure on students, which has been a concern for some time.
"If the homework contains knowledge students have already acquired, then it's unnecessary to do it, and the students can participate in activities that are more important, meaningful and practical."
An said the regulation puts higher requirements in place for schools and teachers. "They have to teach efficiently so students can master the knowledge in a shorter time and finish their work at school."
This is not the first time the ministry has released a notice aimed at easing pressure on students.
On April 1, the ministry launched a campaign to alleviate the burden on students in primary and secondary schools nationwide, warning that schools that increase burdens on students would be exposed.
Others believe the intention of alleviating pressure on students and promoting quality education is positive, but doubt a one-size-fits-all approach is practical or will get the expected results.
"No one knows students' study better than teachers, so we should let the teachers of the two grades decide whether to give homework for summer vacation or not," said Chu Zhaohui, a researcher on education theory with the National Institute of Education Sciences.
Chu said teachers should give assignments in accordance with the specific needs, interests and conditions of their pupils, and that these factors vary greatly among students from different regions; for example, between urban and rural areas.
"For urban students, who are under pressure from many aspects, the cancellation of summer assignments may be a relief.
"But for students in rural areas, where education resources are scarce and the curriculum is not sufficient, summer assignments may be a necessary way to consolidate the knowledge they learned in class," Chu said.
Some teachers and parents were also concerned there may be negative effects on pupils if summer assignments are cancelled completely.
Tian Wenhua, an English teacher at Xiangnan Primary School in Shenzhen, Guangdong Province, said an appropriate amount of homework provides students with fulfillment during the long summer.
"Without any homework, students may watch TV or play video games all day, and the vacation may be wasted on these activities.
"In fact, many assignments for summer vacation are not simple repetitions of knowledge in textbooks. On the contrary, some are good for students to enrich their knowledge and improve their ability to solve practical problems," Tian said.
Wang Haifeng, the mother of a first-grade student, agreed that summer assignments, especially innovative and inspirational ones, should not be eliminated completely.
"For kids of my son's age, I think it's critical for them to acquire good learning habits and a range of abilities, such as reading ability, thinking ability and so on. I suggest that assignments which are helpful for reinforcing these abilities be given," she said.
Wang has registered her son for an English summer class, as well as interest classes in baseball and chess.
"Baseball and chess are his passion," she said. "He is not fond of English, but I send him to the class."
Wang said she did so not because she is a demanding mom who expects excellent performance from her child in every aspect, but because all students her son's age take such classes.
"He will lag behind if he doesn't go to the class," Wang said. "I'm afraid that parents and students will not change if the system of selection through examinations remains."
How to enable students to efficiently manage their time without homework is another important concern.
Xin Tao, a professor of education with Beijing Normal University, said the cancellation of written homework does not mean children need do nothing during the summer vacation.
"In fact, it requires teachers, parents and society cooperating with each other in helping children arrange their time, so children can have a meaningful and fulfilling summer vacation."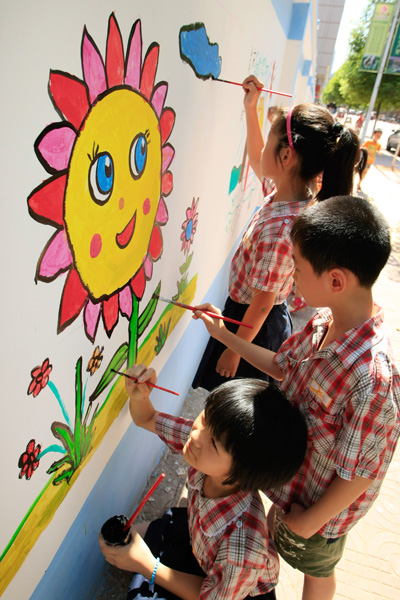 Students at a primary school in Hengyang, Hunan Province, decorate a wall surrounding a construction site for their summer vacation homework assignment. [China Daily]