A Science Class from Above Earth
China Daily, June 21, 2013 Adjust font size:
Chen Yumeng, 16, a student from Beijing No 80 High School, said the water ball experiment was an eye-opening experience, as it is impossible to see on Earth.
On Earth, the effect of gravity and buoyant force will make air ascend inside water, but in low gravity, air bubbles stay inside the water, she said.
"The demonstration is too short, just 40 minutes," Chen said. "I wished the astronauts could do more experiments up in space."
Xiao Jianqiao, a student from Beijing No 2 High School, said he never imagined the astronauts would demonstrate objects in low gravity in such innovative ways.
"Today it's really a joyful surprise that our Chinese astronauts did things like inject red liquid into a ball of water, making its shape stand out."
After the experiments, astronauts also answered questions from students, including the difference between up and down in space, the recycling of water in the orbiter, space debris, the impact of a gravity-free environment on the human body and the view through windows of Tiangong-1.
"Through the front windows, we can see the Earth and many other stars, but up to now we haven't seen any UFOs," Wang said in answer to a question from a fourth-grade student.
"I will tell you a wonderful phenomenon: We can see the sun rise 16 times a day, as we circle the Earth every 90 minutes," she said.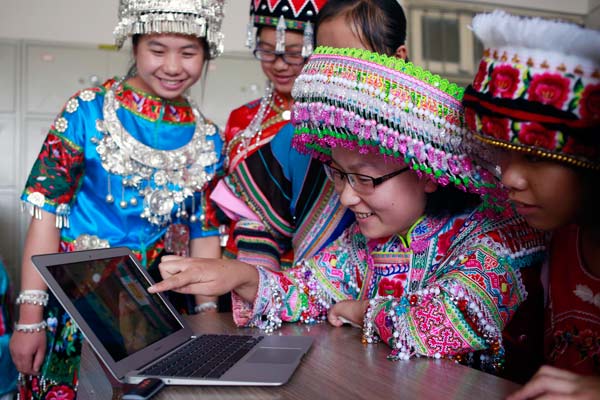 Ethnic Miao students from a middle school in Kunming, Yunnan Province, watch astronaut Wang Yaping's lesson from the space. [China Daily]