Technology Raises Farm Productivity
China Daily, June 4, 2013 Adjust font size:
For Bai Qiangguo, 53, life on the wind-blown plains of central Ningxia Hui Autonomous Region was like being frozen in time: the use of excessive pesticides and fertilizers to farm the reluctant land took its toll on the little fertility there is in the soil. The land became sandier and sandier, increasingly prone to dust storms.
But science is bringing the cycle to an end and giving farmers a harvest for the future.
"Now I work on the land during the day, and use the Internet to sell my wolfberries in the evening," Bai Qiangguo said. "I never thought I would have anything to do with high technology."
Bai and the other farmers who benefited from wolfberry planting technology in Ningxia are only a part of a much more ambitious plan of the government to boost agriculture through technology.
"If we bring technology into agriculture in the Ningxia Hui Autonomous Region, one of the country's poorest rural regions, we can do it in any region in China," Zhang Laiwu, vice-minister of science and technology, told China Daily.
This does not mean just adding new technology into crop planting, or to replacing labor with machines.
Instead, it is a more complex systematic reform: farmers working in commercialized farms, using high-tech equipment to improve both production and quality of the crop. On top of this, the entire community will benefit through the processing industry, logistics, and financial services system. The result will be that skilled talent will be attracted to agriculture.
"The essential factors in traditional agriculture include land, natural resources, like water and labor. But now we will integrate new productive factors like technology, modern management theory and social services," he said.
Although the methods of industrial agriculture, such as techniques for achieving economies of scale in production, are common in developed economies and increasingly prevalent worldwide, China's agriculture remained "old-fashioned", Zhang said.
According to the National Bureau of Statistics, the per capita disposable income of urban residents was 21,810 yuan (US$3,520) in 2011, three times the rural per capita income of 6,977 yuan in the same year.
"The gap is much larger than the global average," Zhang said.
To make things worse, more and more farmers are leaving their land for the cities, causing labor shortages in rural areas. In 2012, China had 262.61 million migrant workers, according to the bureau.
"The most important thing is to train farmers who are capable of making money from agriculture," Zhang said.
Between 2009 and 2012, the ministry sent 240,800 science and technology specialists to rural regions.
Zhang Shengming, 48, was one.
In 2007, Zhang contracted 13.3 hectares of land in Ningxia for wolfberry plating.
He found that pesticide and fertilizer abuse was common.
Zhang established a group of farmers who set strict restrictions on the use of pesticide and fertilizers. It soon attracted 537 households.
By 2012, the number of households planting wolfberries in the town had increased from 80 (in 2007) to 1,050, producing a yearly income of 6,350 yuan per person.
The specialists, distributed in 31 provinces, municipalities and autonomous regions, set up 8,401 agriculture-related businesses by the end of 2011, covering 57.56 million people in rural areas.
They managed to achieve 2.68 billion yuan in profit, according to the Ministry of Science and Technology.
Zhang also launched projects to build agricultural science and technology parks nationwide.
Since 2001, 73 agricultural science and technology parks have been built, and these help train farmers in the most modern and productive methods of farming.
"The parks are like the headquarters of our agriculture industry - they combine each link on the industrial chain, from R&D to products, and cultivate more agricultural talent for us," Zhang said.
The National Agricultural Science and Technology Zone of the Yellow River Delta (Bin Zhou), located in Shandong Province, is an example for the integration of technology and agriculture.
In April, four digital "jackstraws" were installed on an experimental plot in the zone. The "jackstraw", a robot based on the Internet of Things technology, inspects the status of crops and sends the information back to the user's cellphone.
"This means you can sit in your couch and farm the field via your cellphone," Zhang said.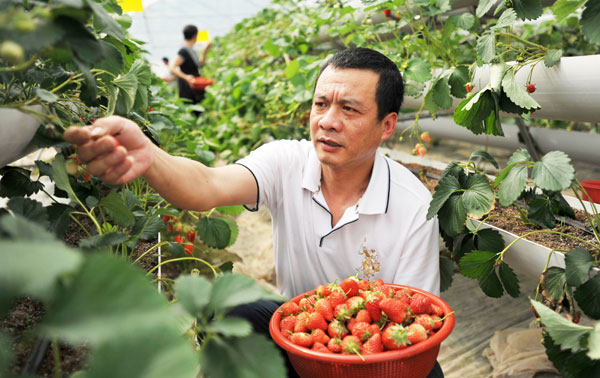 Hydroponically cultivated strawberries are harvested in Shangjie, a village in Lingchuan County, the Guangxi Zhuang Autonomous Region, in April. Scientific and technological authorities in Guangxi used a special 1.5 million yuan (US$245,000) fund to support hydroculture in the village after a water shortage. [Xinhua]