Capital Offers Electric Cars
China Daily, May 23, 2013 Adjust font size:
All vehicles booked out three days after launch of rental project
All 15 electric cars in a pioneering rental project have been booked within three days of its Beijing launch, organizers said.
The project, the first of its kind in the capital, is aimed at promoting the private use of e-vehicles.
Based at Tsinghua University Science Park in Haidian District, it was initiated by the Beijing Municipal Commission of Science and Technology and launched on Monday.
The E150EV electric cars, produced by the Beijing Automotive Group, have all been booked, He Xiaohui, a spokesman for the park, said on Wednesday.
He said most customers were people working in the park, where lots of high-tech enterprises are based.
Customers can rent the electric cars by the hour, day or month, said Zhan Jingjing, an employee of the project. The cars cost 49 yuan (uS$8) for two hours, 99 yuan per day and 1,999 yuan a month, which she said is very favorable compared with the cost of renting a normal car.
The park has also provided a power charging station that can accommodate 11 vehicles at a time, with 10 slow chargers and one fast one. Three more such stations will be built in the park over the next three months.
It costs less than 19 yuan to fully charge a car, which will then run for 120 kilometers. In traffic, the vehicle can last for as many as 160 km as the slow speeds save energy.
According to the city's science and technology commission, 750 electric taxis are available in the suburbs, and 2,000 more will come into service this year.
The authority said it is also stepping up the construction of fast-charging stations.
At Tsinghua University Science Park, e-car users can park in the battery charging station area, and three workers are stationed in the park for any maintenance and repair problems, said Chu Jing, the leader of the project's tech-support team. However, clients are still concerned about safety and repair issues, and called for more support policies.
Project customer Chen Haiying, the founder of high-tech Vigend Co, said he hoped emergency recovery services and more car insurance services will be provided.
"I will only use the car as an alternative for commuting from home to work," said Chen, who has rented an electric car for three months.
Although he would not consider buying an electric car as he already had a fuel car, Chen said he believes e-cars could become a driving force of change in the auto industry.
"Just as the emergence of digital cameras changed the traditional camera industry, e-cars could change the car industry as long as the government tries to overcome the disadvantages," Chen said.
In European countries such as Finland and Germany there are similar projects to encourage people to rent e-cars, said Kimmo Rauma, chief technology officer at Visedo Co, a manufacturer of heavy duty e-vehicles.
The cheaper rental prices could attract more customers, but in the long run, the government should launch tax-deduction policies for electric car manufactures and provide more subsidies to consumers to develop the industry, he said at a forum at the 16th China Beijing International High-Tech Expo, which opened on Wednesday.
According to a report by Minister of Science and Technology Wan Gang on Tuesday, as of 2012 China had nearly 40,000 new-energy vehicles, including electric cars, and about 80 percent of them were buses.
The country will still focus on the promotion of new-energy buses, but private cars using new energy will also be considered, he said.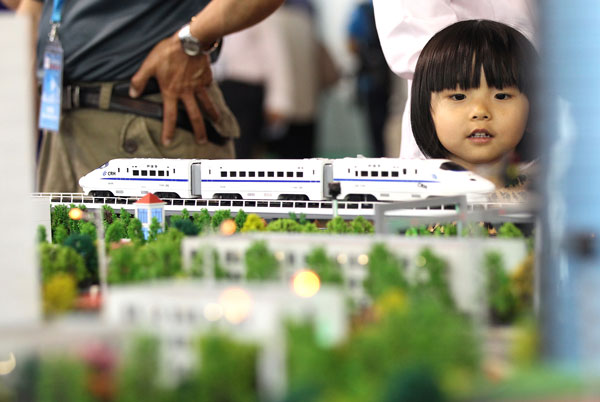 High-speed trains represent one of China's achievements in climbing the global tech ladder in recent years. [China Daily]