Concern over Students' Mental Health
China Daily, May 6, 2013 Adjust font size:
Every morning students hurry to classes and laboratories at Fudan University's medical school in Shanghai. As they pass in front of the dormitory, they slow to examine rows of origami cranes hanging on the college grounds.
The thousands of white paper cranes were made by students in memory of Huang Yang, a postgraduate medical student who died from multiple organ failure on April 16, two weeks after drinking water laced with N-nitrosodimethylamine, a highly toxic chemical that is often found in cosmetics and cleansing agents and that causes liver damage.
Huang's roommate, surnamed Lin, has been arrested on suspicion of murder, according to the prosecutor in Shanghai. Police claim the 27-year-old held a grudge against Huang over a trivial matter and deliberately poisoned him by taking the chemical from a university lab and putting it in their dormitory water dispenser.
Lin, from Shantou in Guangdong Province, is outstanding academically, but introverted and shy about speaking in public, according to people who know him.
Huang's parents have been devastated by the news. "They cannot believe their son was poisoned, apparently over a trivial matter," said Wang Zhiwei, a classmate at Rongxian High School in Sichuan Province who has been staying with Huang's parents.
"His mother is distraught with grief; she can't speak, she just keeps crying. She's heartbroken that her son died in circumstances such as this," said Wang.
Huang was the only child of an underprivileged family. Neither of his parents had a full-time job.
"We are worried how Huang's parents will live the rest of their lives without him," said Wang. Students from Huang's high school and university have started a collection to help the family.
Huang's academic achievements and talent were recognized by teachers and classmates, and there is a consensus that he would have gained a PhD with ease. Sadly, the case has resulted in a new online greeting among former roommates and classmates: "Thank you for your forgiveness and for not killing me during our school days."
The case has shocked the nation and reminded people of a similar event at an elite school 19 years ago.
Zhu Ling, a 21-year-old student at Tsinghua University, was poisoned with thallium, a heavy metal that had been introduced to her cup. Although Zhu survived, she has irreversible brain damage, and is paralyzed and practically blind. Several internal organs are also irreparably damaged, and she requires constant supervision and care. The case has never been solved.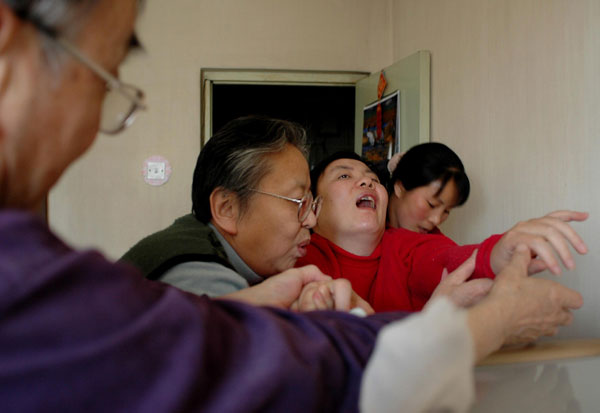 The paralyzed Zhu Ling (second right) tries to move with the help of her parents and a housemaid. Zhu was poisoned with thallium 19 years ago when she was studying at Tsinghua University in Beijing. The case has never been solved. [China Daily]