Call for Reform of English Language Assessments
China Daily, March 22, 2013 Adjust font size:
Current English testing system puts too much pressure on students, advisers say
Chinese political advisers have called for reforms of the English language testing system to make it more effective in cultivating actual language ability.
"Currently, the English testing system in China puts too much pressure on students to get high marks and ignores the development of their comprehensive language capabilities," said Yang Xueyi, a Chinese People's Political Consultative Conference National Committee member and Party chief of Beijing Foreign Studies University.
"Some changes in the evaluation procedures of English examinations are necessary for the sound development of the national English education system," he said.
Yang said the English component in the National College Entrance Examination for senior high school students, or gaokao, should diversify its evaluation criteria to get a more objective assessment of the students' English abilities.
"For English, the students' daily achievements in studying the language should be taken into account, instead of judging their ability with just one test," said Yang, who is also a professor of English language and literature.
He pointed out that one of the biggest challenges in developing English education in China is a traditional lack of emphasis on spoken English.
"Although English education is highly emphasized in the national education system, with the share of English scores in gaokao being as high as 20 percent, spoken English has not been tested as part of the gaokao. Some students do not practice spoken English because it is superfluous in the exam," Yang said, pointing out that spoken English is important for effective communication.
He also suggested the use of different criteria in assessing students from different areas and focused on different majors.
"Because of disparities in the ability of teachers and educational facilities, urban students usually score higher scores than rural students, averaging almost 20 points higher in the gaokao, a decisive margin that could have a decisive impact on their choice of university," Yang said.
"It is unfair and unnecessary for the whole nation to adopt one single admission standard for all students from all the different regions. Students from poor and rural areas should receive favorable treatment, such as getting 20 points more in the final scores than their urban peers, to bridge the gap," said Yang.
He said English requirements for different majors should be varied and colleges should consider passing the College English Test a requirement for graduation.
"For majors closely related to English, such as foreign languages and international affairs, it is understandable the requirement for the students' English proficiency is quite high. Yet it is unnecessary for students majoring in arts or other subjects to spend too much time on English studies because no more than 20 percent of them will need to use it in their lives," said Yang.
Chen Liqun, a 22-year-old graduate of Nanchang University in Jiangxi Province, majoring in Chinese literature, took a national entrance examination for postgraduate students in January and scored 388 out of a possible 500 in the exam.
She thought it was a high score that would ensure her a place at the Communication University of China, where she hopes to go to graduate school. Unfortunately, she only scored 51 points on the English test. Students are usually required to get at least 55 points in that test.
"I don't know why every major should take the English exam," said Chen, "I think because I am applying for Chinese and am pursuing it as my future research orientation it is more worthwhile and valuable for me to spend time studying Chinese. It really let me down that I failed the exam because of the English test."
Yang, from Beijing Foreign Studies University, suggested giving some of the important tests, such as the gaokao English test and the College English Tests, more than once a year.
"That way, students would have more opportunities and choices, instead of their fate being decided by one test," said Yang.
Under the current system, most students take a two-day examination, which is the only assessment of their academic performance from 12 years of study. English, or another foreign language, is one of the test subjects.
The result will determine the students' future path. In 2012, about 9.15 million Chinese students took the gaokao.
Most Chinese senior high school students study hard for their once-in-a-lifetime test, but their counterparts in the United States can take the SAT, a crucial test for college admission in the US, as many times as they wish.
Song Demin, director of the Comprehensive Reform Department of the Ministry of Education, said China has been improving the testing system and the ministry is considering offering students the opportunity to take English tests more than once a year.
Although the central government has not enacted specific regulations, some regions and districts have implemented reforms. According to a recent report on Chinanews.com, Jiangsu province will introduce reforms in the National English Test this year.
In addition to taking the normal gaokao English test on June 8, students in the province will have an opportunity to take another English test. The higher score of the two tests will be the final scores for the students' gaokao English test.
Yu Minhong, a CPPCC National Committee member and president of New Oriental Group, said the national English testing system reform is bringing improvements.
"The reform should be conducted step by step. Everyone says the test puts too much pressure on students, but it also offers great opportunities for students from poor family backgrounds to change their fate. Recent years have seen the improvement of the testing standards, and I believe the standards will become increasingly objective and scientific as students are taught English skills, instead of simply being testing machines," said Yu.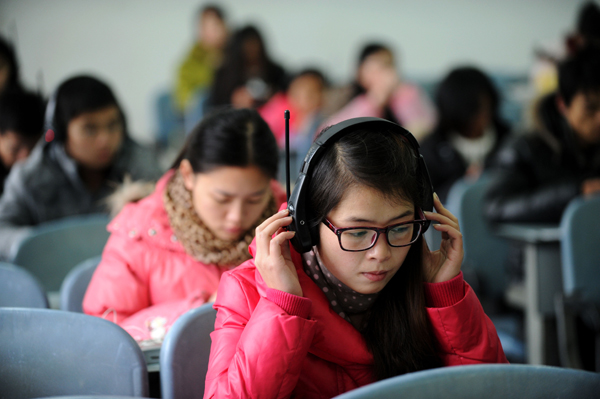 Students take the national College English Test in a classroom of the Hubei University of Economics in December. [Xinhua]