Robots Enter Catering Industry
Xinhua News Agency, January 21, 2013

Adjust font size:

A restaurant on Central Street in Harbin City, capital of northeast China's Heilongjiang Province, offers service with a difference.

The Haohai Robot Restaurant is like a scene from a film with robots resembling movie characters, such as Optimus Prime and Wall.E, serving customers each day.

Around 20 robots work at the restaurant, which has served more than 10,000 customers since it opened in June 2012.

The robots operate as entertainers, greeters, cooks and wait on tables. They cook Sichuan cuisine and northeastern food.

"It's amazing. It makes me feel I'm in the future. The robots cannot only speak, their dishes also taste delicious," said a woman surnamed Zhang.

In fact, people who come here indulge in their curiosity rather than appease their appetite. Most of the guests just take pictures.

Liu Hasheng, chief engineer of the restaurant said, "Almost 60 percent of guests are parents and children, and tourists account for 20 percent. People come here not only for a meal but to experience the world of science fiction."

Liu runs Harbin Haohai Robot Co., Ltd. developing and producing robots.

The restaurant is a part of the company and the robots were developed by Liu and his research team.

Each robot has a dozen facial expressions and speak using short simple sentences. Ultrasonic detection devices prevent the robots from hitting any barriers.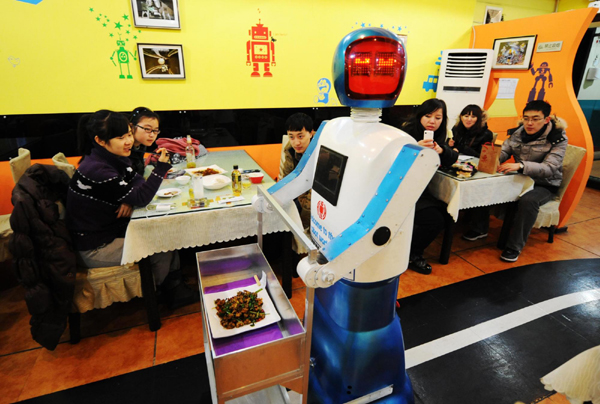 A robot serves dishes in a robot themed restaurant in Harbin, capital of northeast China's Heilongjiang Province, Jan 18, 2013. Opened in June of 2012, the restaurant has gained fame by using a total of 20 robots to cook meals, deliver dishes and greet customers. [Xinhua]