Report: 4 Rural Schools Disappear Every Hour
china.org.cn / chinagate.cn by Jiao Meng, January 17, 2013

Adjust font size: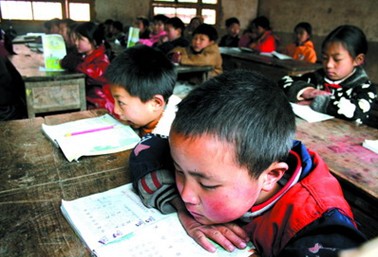 [File photo]
"The pace of rural school closure was 41 times faster than the decreasing margin of rural students in 2011," said Yang Dongping, president of 21 Century Education Research Institute at a forum held in Beijing on January 12, 2013.
The two-day Rural Civilization Development Forum introduced a report on rural education.
Between 2000 and 2010, 63 primary schools, 30 teaching sites and 3 middle schools closed every day. These numbers indicate a rate of four schools closing every hour, according to the report.
The report proposed a new index – a school closure index, to represent the relationship between declining rural schools and rural students.
"Parents have to spend more money and travel farther to send their children to school," Yang said. "This goes against the principle of compulsory education – let every child go to the nearest school free of charge."
Starting in 2001 -- under the pretext that China has a smaller population of rural children – China launched a campaign to reform rural elementary and middle schools nationwide. This program closed a large number of village schools and transferred the student to larger county or township schools.
In September 2012, the State Council published a new document asking for local governments to re-open closed schools.

 National school closure index from 2001 to 2011