China's Rural Education at Risk
China.org.cn by Zhang Fang, January 8, 2013

Adjust font size: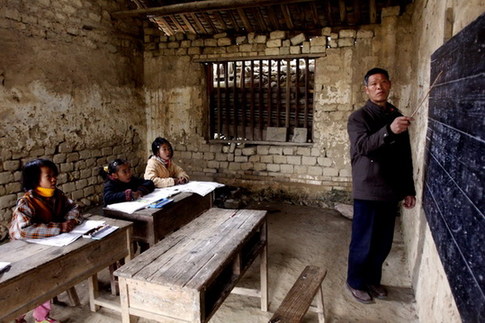 Rural schools have been closing their doors at an alarming rate between 2000 and 2010. [File photo]
Once upon a time, more than 30% of the county's elementary schools were located in the rural area of Sichuan's Butuo County, whereas that number has now dropped to 10% in a time-span of less than ten years.
"Back in 2003, we had elementary schools in all 190 villages, but now only 58 schools are left, said Rong Jinglong, director of the Butuo County Education Bureau.
At the same time, children from the remote mountain village of Sichuan's Liangshan, are struggling against the high mountain during their four-hour-long walks to a township school after their own four village schools were shut down permanently.
Starting in 2001 -- under the pretext that China has less and less rural children – China launched a reform campaign in rural elementary and middle schools nationwide, which basically entailed the shutting down of village schools and gathering students in county or township schools.
Rural schools have been closing their doors at an alarming rate between 2000 and 2010, causing 63 rural primary schools, 30 learning centers and three middles schools to vanish per day, according to statistics released by the 21st Century Education Research Institute of China.
This shrinking number of village schools does have its reasons, said Rong. "The teaching quality in these schools is low; some students can barely write their own name after studying for years."
"The dowdy buildings and small student numbers also contributed the shutdown of rural schools. In addition, we don't have enough teachers due to the harsh environment and low payment."He said.
"Closing down some of these rural schools was the right thing to do considering the circumstances back then, but in many places these procedures did not follow the correct ways, causing a series of severe consequences," said Fan Xinchen, professor at Central China Normal University.
Increasing dropout rates
The closing rates are higher than the decline in number of rural children, which had originally brought on the increase in dropout students.
Liu Shankui, from the Rural Education Institute with Northeast Normal University, said the decline in numbers was around three to four percent from 2001 to now, whereas the closing rate of schools stood at over six percent.
But fact is that the closed schools were mainly located in small villages, where inconvenient transportation had a large impact on elementary pupils.
"It is too hard for young students to walk a long way to a school and they are not capable of handling the dangers on the road either," said Liu. "So once the nearby schools are closed, and there is no transportation or chance of accommodation at a far-away school, their parents prefer to let them drop out and send them back in after a few years."
Han Qinglin, from the Chinese Society of Education, said the number of dropouts was around 620,000 in China, with a 4.58% rate in 2000; but in 2011, the number went up to 883, 000, totaling at 8.89%. "It was actually the other way around from 1997 to 1999,"said Han.