Desk Purchase Request Leads to School Firings
China Daily, January 7, 2013 Adjust font size: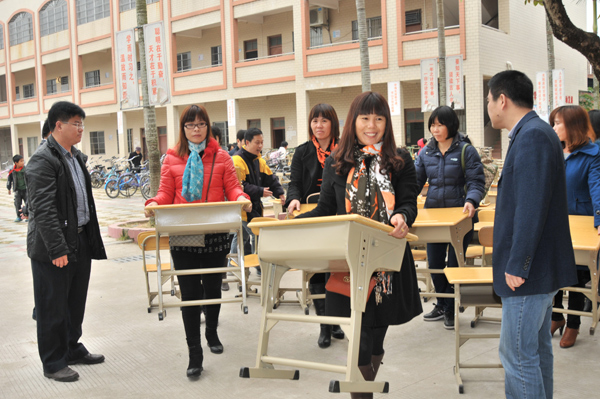 Teachers move newly purchased chairs and desks into classrooms at Zhongxin Primary School in Zhenwen township, Guangdong province, on Thursday after media reports revealed the school asked its students to buy their own school furniture. [China Daily] 
The chiefs of three public schools in Guangdong Province lost their jobs after it was revealed they had asked students to buy their own school chairs and desks.
The three chiefs were removed from office following a public outcry after the incident was revealed by local media a few days ago.
Chuanxi High School, Huangpo township's Dayuan Primary School and Zhongxin Primary School in Zhenwen township, all in the city of Wuchuan in western Guangdong, had asked students to purchase chairs and desks, according to the findings of a preliminary investigation by Zhanjiang city government.
Wuchuan is under the jurisdiction of Zhanjiang.
The heads of the three schools, whose names were not revealed, were removed from their posts on Friday and are being investigated, according to a statement released by the Zhanjiang government on Sunday.
By Saturday, Wuchuan had equipped all local primary and high schools with an ample number of chairs and desks. Parents who bought chairs and desks for their children have been told to take the furniture home, the statement said.
One Guangdong educator said officials at the three schools should be ashamed of their actions.
"It is shameful that schools in Guangdong, one of the most affluent regions in China, do not provide chairs and desks to students," said Liu Jianfu, a senior researcher with the Guangdong University of Foreign Studies.
"According to law, education is free for all primary and middle school children and they do not need to pay any tuition, let alone purchase chairs," he said.
He called for a thorough investigation of the case to see if any corruption or misuse of educational funds has occurred.
None from the three schools in Wuchuan commented on the case.
Wuchuan, with a population of more than 1 million, ranks at the bottom measured by GDP and residents' income in Guangdong.
But other school heads said Guangdong's public schools have been given enough money, even if they are in the poorer, western part of the province.
Lin Yehan, principal of a primary school in Fengkai county, also in western Guangdong, said the government provides 140 yuan to 160 yuan (US$22-US$25) per student in his primary school for office expenses every school term. "That's enough to buy new chairs and desks."