11 Children Killed in School Bus Accident
China Daily, December 25, 2012 Adjust font size: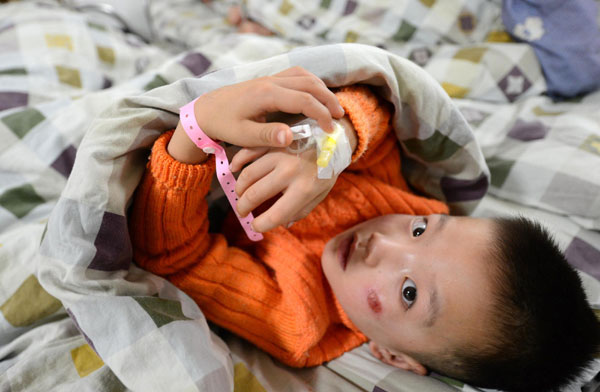 An injured child is treated in a hospital in Guixi, Jiangxi Province on Dec 24, 2012. [Xinhua] 
A seven-seat van carrying 15 children drove into a pond in east China's Jiangxi Province on Monday morning, killing at least 11, the local government said.
The accident occurred at about 9 am when the van with 17 people -- the driver, 15 children and a teacher -- rolled over and fell into a pond in Binjiang township of Yingtan city in Jiangxi Province, the publicity department of Yingtan city government told China Central Television on Monday.
Three children died at the scene. Twelve children were sent to a hospital, eight of whom died while receiving treatment, the report said.
The van's driver, Peng Chun'e, has been detained by police.
The children, who were between the ages of 4 and 6, were from Chunlei Kindergarten in Jinsha village of Binjiang township. The kindergarten is unlicensed and has been shut down many times by the local government, CCTV reported.
The van was speeding when the accident occurred. The van fell into the pond after hitting a sand pile that it drove into to avoid colliding with a tractor that was parked on the roadside, CCTV reported.
There have been many traffic accidents involving school buses in recent years.
One of the most serious occurred on Nov 16, 2011, when 21 children died after a nine-seat minivan, overloaded with 62 kindergarten students, collided with a coal truck in Northwest China's Gansu province.
Liu Limin, vice-minister of education, said only 10.2 percent of China's school buses meet the country's safety standard.
There were 285,000 school buses being used nationwide in 2011, and only 29,000 of them met the safety standard, he said in an article published on Dec 1 in Qiushi Journal.
Many students in rural areas have to travel to school by bus because the schools near their homes have been closed since 2001. Road conditions in rural areas are poor and many drivers disobey traffic rules, which puts the children's safety at risk, Liu wrote in the article.
The Regulation on School Bus Safety Management, issued by China's cabinet and implemented on April 5, requires local governments to ensure students attend nearby schools or boarding schools so as to "reduce students' traffic risks".
Officials will be held accountable if major school bus accidents occur due to their dereliction of duty, said the regulation.