Soong Ching Ling Foundation promotes sports welfare
china.org.cn / chinagate.cn by Chen Boyuan, June 8, 2016

Adjust font size: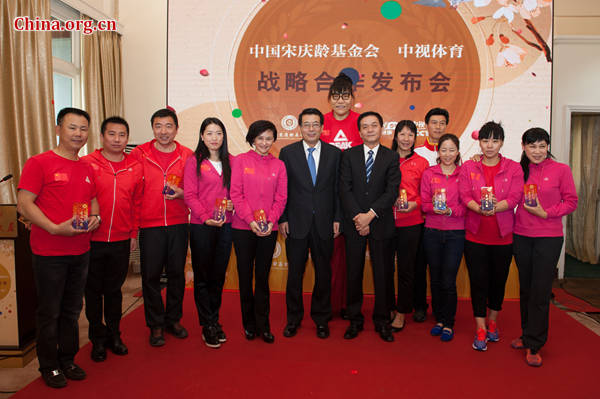 Sports champions pose for photos with leaders of CSCLF and CTSE as the two organizations ink a strategic partnership on Friday in Beijing. [Photo by Chen Boyuan / China.org.cn]
On April 15, the China Television Sports and Entertainment Company (CTSE), which operates China Central Television's CCTV 5 sports channel, teamed up with the prestigious China Soong Ching Ling Foundation (CSCLF), hoping to promote sports-related social welfare in China.
The signing ceremony took place at the former residence of Madame Soong Ching Ling, wife of Dr. Sun Yat-sen and late-honorary president of China. More than 10 sports gold medalists from the CSCLF Champions Fund witnessed the signing ceremony.
Under the plan, the two parties will work together in creating the resources for public welfare, such as supplying rural schools with better sports facilities to boost physical education of young people. The CSCLF is renowned for its dedication to social welfare projects.
Both parties have agreed to set up the "CSCLF-CTSE Fund," which is to be entrusted by the China Soong Ching Ling Foundation, to finance sports-related development, as well as poverty alleviation, disaster relief and other volunteer services.
The new fund will be in "full cooperation" with the CSCLF's existing other sports-related funds, such as Kobe China Fund, Beckham Special Fund, and the CSCLF-Champions Fund, according to the CSCLF's official statement.
Gao Min, Chinese diving diva and member of the CSCLF-Champion Fund, spoke on the need to upgrade rural schools' sports facilities, a necessity for rural children's comprehensive development.
"During our visits to those schools, we were invited to play sports games with them, such as table tennis, badminton and others. Interestingly, students there, knowing we are champions, weren't afraid of playing with us. Instead, they really wished to beat us," said Gao.
The other gold medalists also spoke of their positive experiences with the charity, including Tang Jiuhong, a badminton world champion who now heads the CSCLF's department for fund management. She said that better sports facilities in school are important in shaping young students' self-confidence, a factor that in turn influences their growth.