University streamlines admission for poor students
Shanghai Daily, June 8, 2016

Adjust font size:

Fudan University is reforming its enrolment process to make it easier for outstanding students in poor areas to gain entrance, it announced yesterday.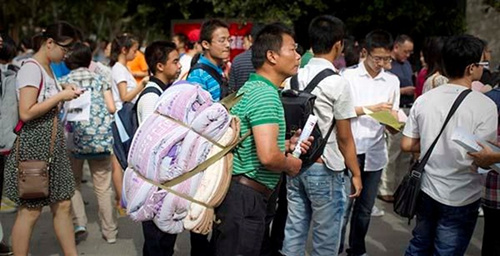 University streamlines admission for poor students
For the first time, underprivileged students will not be required to sit the univeristy's exam or be interviewed after passing the national test. "The reformed process will save students from poverty-stricken areas the cost of transport and accommodation," said Ding Guanghong, director of the university's admission office.
Students from poor areas need only to apply online and will be selected on the basis of their performance at school and on the national college entrance exam.
"Interviews for students from poverty-stricken areas will be dropped because they usually haven't seen much of the world compared with urban children, but they are as good as the others," Ding said.
"The reformed process also allows us to have a broader choice of potential students."
Fudan plans to enroll 400 students from poor areas, accounting for 13 percent of its overall quota for this year.
Last year, it also planned to enroll 400 underprivileged students, but only 100 enrolled.
Some students failed the written exam or did poorly in the interview, while some went to other universities, said Ding.
This year, however, the 400 slots will likely be occupied, he said, adding that information regarding student selection will be made public to ensure transparency and fairness.
Students from poverty-stricken areas are among the best at Fudan, Ding said, who encourages more to apply.