Key to fair education is resource allocation
china.org.cn / chinagate.cn by Chu Zhaohui, June 8, 2016

Adjust font size: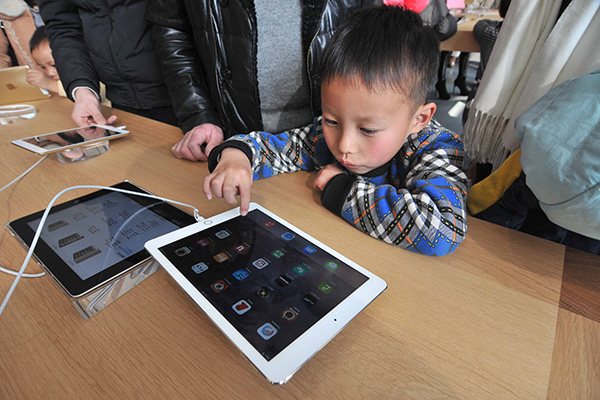 A boy tries an iPad at an outlet of Apple Inc in Hangzhou, capital of Zhejiang province. [Photo/China Daily]
The insanely high housing high prices in so-called school districts reflect the unfair allocation of educational resources in China's big cities. Parents' desire to get the best education for their children forces them to buy a house near "good" schools so that they can get them admitted there.
Housing prices in such school districts will return to normal only when the authorities strike a balance in the allocation of education resources. But that will not happen overnight.
The Ministry of Education recently announced that it would promote a multi-school-admission policy, meaning people living in one area of a city can get their children admitted to a school in another area. The existing rule says children living in a certain area can get admission to schools only in their neighborhood, which is the reason behind the rising housing prices in residential areas with "good" schools.
But the multi-school-admission policy is only a transitional measure, which, without long-term planning and effective enforcement, is not likely to succeed in the long term.
When education resources are not fairly and effectively allocated, it is natural for parents who can afford to pay high property prices to look for a house in "good" school districts. It's another matter that their behavior is affecting the school admission process.
Therefore, the government has to take measures to streamline the school admission process to ensure every child benefits from the compulsory schooling policy. For example, the government should correct the existing imbalance in the distribution of education resources, which will help restore order to the school admission process.