Students in poor mountainous areas take "dream class"
chinagate.cn by Fan Anqi, August 17, 2015

Adjust font size: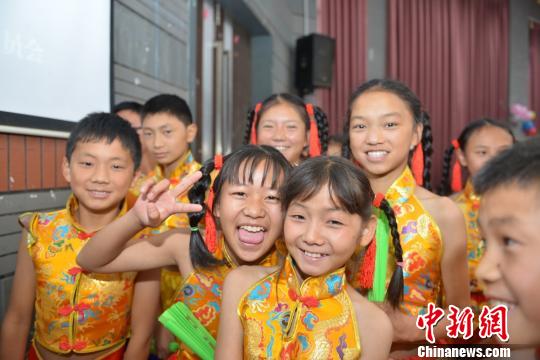 Samsung Hope School students perform at the opening ceremony of "Samsung Dream Class"
144 students and teachers from eight Samsung Hope School in Yunnan province, southwest China, gathered at Yunnan Normal University on July 20, 2015, where they will experience a ten-day "dream class" and other interesting activities.
The opening ceremony of "Samsung Dream Class", held by Yunnan Youth Development Foundation and Yunnan Normal University, marks the beginning of a 10-day training. Volunteers from Yunnan University and Yunnan Normal University will teach the students from impoverished mountainous areas various courses, such as computing, history, environmental protection, safety and science, etc.
Apart from these courses, students will visit Yunnan Provincial Museum and Lufeng World Dinosaur Valley. They can also go to an amusement park, where all kinds of activities such as fun games and birthday parties will be held.
120 students from eight Samsung Hope School in Yunnan attended this event, among which 48 students and teachers are from quake-hit Ludian County of Yunnan Province. Xi Piao, one of the students at Samsung Hope School is a left-behind child. Her former school went down during last year's Ludian earthquake, and since then the portable shelter becomes she and her friends' classroom.
"We will have a new teaching building this semester," said Xi happily. "I am so looking forward to studying in the beautiful brand-new classroom." She promised that she will cherish this opportunity to gain more knowledge and experience.
"Thanks to public welfare, students in impoverished regions are able to enjoy the happiness of having an opportunity to learn," said Yang Xiaoyu, deputy secretary-general of China Youth Development Foundation. "I hope that students can really gain some knowledge through this activity."
As the partner of Project Hope, which aims to bring schools into poverty-stricken rural areas of China, Samsung has donated 88.66 million yuan (US$14.28 million), and is estimated to exceed 110 million yuan (US$17.72 million) before the end of the year.