A joyful summer for left-behind children in Hangzhou
chinagate.cn by Fan Anqi, August 17, 2015

Adjust font size: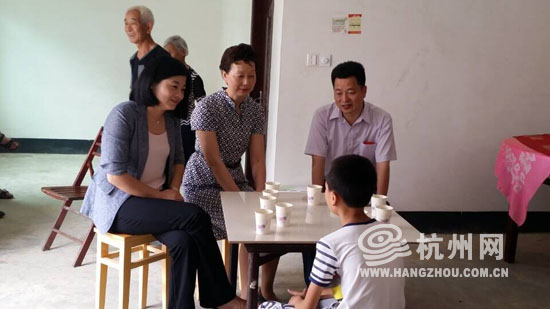 Ding Liyan, vice president of Hangzhou Women's Federation, visits left-behind children's homes.
More than 14,000 left-behind children in rural areas of Hangzhou, capital of Zhejiang Province will enjoy a joyful summer, thanks to a special care-taking program launched by the municipal government. The program, launched on July 24, 2015, aimed to bring love and care, among other measures in creating a more favorable environment, to the left-behind children in the rural areas of the city, during their summer vacation.
Taotao is a 15-year-old boy in Anyang Village in the rural area of Hangzhou. He looks a bit different from other boys of his age – he is shorter and thinner. Moreover, he is only in his fifth grade of primary school. All such differences are results from uremia, which he got at the age of four.
His mother deserted him a year after he got sick, and his father also left home to work in other cities to pay for the boy's mounting medical bills. Since then, Tao has been living with his grandparents as a "left-behind child."
Luckily, in this summer he is no longer alone. The staff from the Hangzhou Home Education Group visited his home on July 24 and brought him gifts and allowance money; they encouraged him to study hard and deal with difficulties in life with a positive view.