Left-behind girl murders friends
chinagate.cn by Fan Anqi, August 3, 2015

Adjust font size: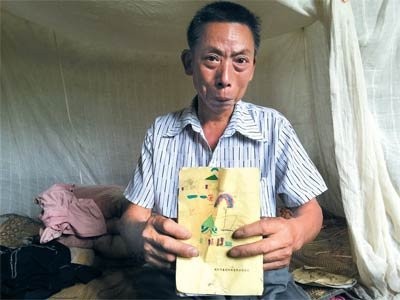 Tang's father burned all her daughters' belongings after their death, except for this notebook, where Tang Xiaoxia drew the only colored painting in her entire life. 
The death of two young sisters in the Jiepai County of the Hengyang city in Hunan Province last month broke the silence of the rural township. Police soon ruled they were poisoned to death before identifying the assailant – Chen Xiaowen, a 12-year-old left-behind girl, and the victim's best friend. She was later sentenced to three years in jail.
According to the police, the convict's motive for the killing was simple: the sisters' mentally challenged mother once pinched her ears.
One of the victim was Tang Xiaoxia, Chen Xiaowen's best friend in class. Tang lived in a small mountainous village ten kilometers away from Jiepai County. Her father works in a cotton factory during the day, and does farm work in the evening; her mother, who suffers from mental illness, lives on collecting garbage. The mother's mental condition somehow passed on to Tang, and that was why she was a difficult student in class.
Similarly, life of the convict, Chen Xiaowei was no better. Chen's mother abandoned Chen when she was eight, and her father was a migrant worker in another city, so that the little girl had been in the care of her grandparents. "An introvert girl with an eccentric temper" was the townspeople's impression of Chen.
The dismal yet similar childhood brought Chen and Tang together. Tang's father said the two girls were close since the first grade. They were reluctant to talk to others in their "exclusive" friendship.
Conflicts were inevitable from time to time, during which Tang always turned to her mother, who would pinch Chen's ears and swear at her. Little did anyone know that parental protection would eventually result in the murder.
In her confession, Chen said that the ear pinching was her motive for the killing, adding that she felt "betrayed by her best friend." She seemed calm most of the time at the trial until police mentioned her parents. That was when Chen screamed and cried, saying: "I have no mother. She is long dead."
Chen Xiaowen's personality was typical among left-behind children, i.e. those whose parents are seeking employment in other places. She acted introvert, eccentric and bizarrely taciturn. Facing the seemingly insolvable trouble, killing was her only solution.