'Exploration Part of Chinese Dream'
China Daily, June 25, 2013 Adjust font size: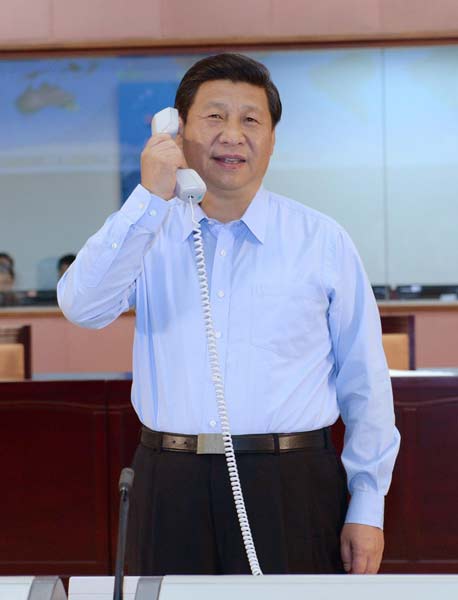 President Xi Jinping, at the Beijing Aerospace Control Center, talks on the phone with three astronauts in space module Tiangong-1 on Monday. Xi said the space mission is part of the dream to make China stronger. [Xinhua]
President speaks highly of three astronauts on Shenzhou X mission during a video call
China will take bigger steps in space exploration in pursuit of its space dream, President Xi Jinping said during a video call with the astronauts on the Shenzhou X manned mission on Monday.
Speaking via a video link from the Beijing Aerospace Control Center, Xi said the space dream is part of the dream to make China stronger.
"With the development of space programs, Chinese people will take bigger strides to explore further into space," Xi said.
Having blasted off on June 11, the Shenzhou X spacecraft is scheduled to return to Earth on Wednesday. The spacecraft's re-entry capsule is expected to land on the prairie of the Inner Mongolia Autonomous Region.
Having been in space for 13 days on Monday, the three astronauts — crew commander Nie Haisheng, Zhang Xiaoguang and Wang Yaping — reported to Xi that they are in good condition.
Xi expressed his sincere greetings to the astronauts and especially asked how Zhang and Wang felt, as the mission is their first time in space.
Zhang, who was one of China's first batch of astronauts recruited in 1998 but only realized his space dream 15 years later, said he and his fellow astronauts had adapted to the microgravity environment quickly.
Wang, China's second woman in space and first space teacher, said they all had normal appetites and were able to rest seven to eight hours each day.
On last year's Shenzhou IX mission, one of the three astronauts remained on duty each night to watch out for any sign of abnormalities. The space program changed that schedule for this mission and arranged for ground staff to strengthen their monitoring of the vessels at night for the astronauts.
Xi spoke highly of Wang's space lecture, which was watched and listened to by more than 60 million students nationwide. During the 40-minute lecture on June 20, Wang demonstrated how things move in microgravity environments and the surface tension of liquid in space, and answered questions from the students.
Xi said the country's first space lecture would play an important role in fostering young people's interest in sciences and exploring space.
The manned space mission also reflected the courage to defy hardships and explore, a spirit that would inspire the entire nation, he said.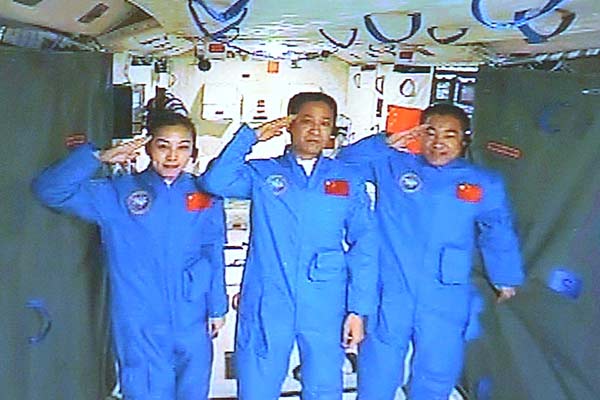 The three astronauts — crew commander Nie Haisheng (M), Zhang Xiaoguang (R) and Wang Yaping (L) — reported to Xi that they are in good condition. [Xinhua]