Environmental protection? There's an app for that
Xinhua, July 30, 2015

Adjust font size: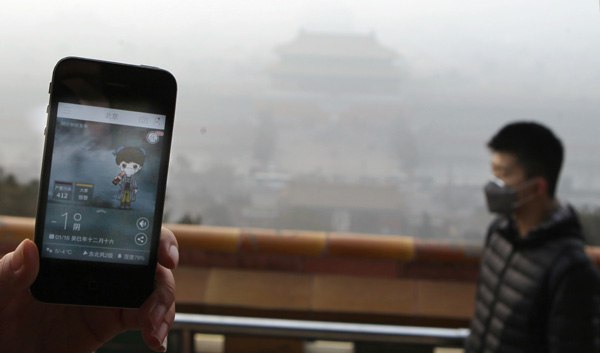 Apps on smartphones provide information about the weather as well as the emission of pollutants. [China Daily]
Although data provided to smartphones allow the general public to access information about local emissions levels, the programs are only as effective as the official agencies tasked with dealing with complaints.
After downloading a smartphone app called Pollution Map in September, Fang Zheng has used it to monitor emissions from local factories every day.
If the resident of Hefei city in Anhui province discovers that businesses are discharging excessive levels of airborne pollutants, far higher than the national standards, he posts their information on his micro blog and forwards it to the official accounts of the relevant authorities, including local governments and environmental protection bureaus, "like an observer", he said.
On Dec 8, the 27-year-old lawyer's dedication was rewarded when the environmental protection authorities launched an investigation into a persistent polluter in nearby Chaohu city, with the result that the company has promised to install advanced equipment and clean up its act within six months.
"It can seem as though individual efforts against large polluting companies are toothless, but they really do work," Fang said.
Further north, an environmental group called Green Activities in Jinan, Shandong province, has also been using Pollution Map to actively monitor and report polluters for the past seven months.
"We have identified 60 companies in our province that regularly emit excessive pollution, and 56 have released official documents listing the reasons, and the measures they will take to reduce emissions," the group's leader, Guo Yongqi, said.
Some of the companies have finished their upgrades and have invited Guo and his team to inspect the changes, an achievement that a small group such as Green Activities would have thought all but impossible until recently.
Ma Jun, one of China's best-known environmental activists, who helped develop the app via the Institute of Public and Environmental Affairs, an environmental group in Beijing, said: "Combining public strength to curb pollution, especially smog, has become a widespread trend."
The data shown on the app allow members of the public to identify and target persistent or unrepentant polluters. The high volume of online reports draw the attention of the media and the authorities, which should then move to punish those responsible.
The app displays hourly information on gases discharged by more than 4,000 factories in more than 360 cities and counties nationwide by using data from automated monitoring equipment installed by the government.
Ma said the app provides easy access to a huge amount of information about emissions, but because of the thousands of regular updates, it is quite time- and energy-consuming for an individual to use.
Of the more than 1,600 companies that have been exposed so far, 200 have finished upgrading their facilities, thus helping to reduce pollution. The app also allows long-distance monitoring by business partners. "A large number of global brands crosscheck their Chinese partners (which provide raw materials or processing facilities) to see if they are polluting the environment," he said.
Booming business
An increasing number of environmental protection groups and individuals are focusing on the use of convenient apps because smartphones have extended to all walks of society.
The success of Pollution Map inspired Zhou Shouqiang, an enthusiastic environmental volunteer from Wenzhou city in Zhejiang province, to develop his own app to better protect local rivers and promote better air quality.
Many of the friends in green NGOs have also started developing their own apps, he said.
Official support for the release of company data about polluting has legitimized the use of mobile apps to track polluters.
When the revised Environmental Protection Law came into effect on Jan 1, the Environmental Protection Ministry released a legally binding guideline to be implemented on the same day. The guideline ordered businesses in the polluting industries to release emissions information online, making it easy for the public to obtain and monitor.
The public enthusiasm, coupled with official determination to curb air pollution, has boosted the growth of smartphone apps that monitor emissions and other pollutants. There are currently more than 100 on the market, and some of the most popular have been downloaded more than 1 million times.
In the first month after Pollution Map was released in June, it was downloaded 50,000 times, Ma said.
The same month saw the release of another pollution app called ecosnapp, which has been downloaded more than 700,000 times in the past seven months, said Liu Guozheng, secretary-general of the China Forum of Environmental Journalists, which developed the app.
Basically, apps split into two types: The first simply provide basic information, while the others allow users to interact to track and identify polluters. For example, most smartphone weather forecast apps provide real-time air quality data, and some-such as TEDA, supplied by the Teda Eco Center, a green NGO in Tianjin-also contain details of official government policies and other information about the environment.
Others, such as ecosnapp, belong to the interactive group, and allow users to upload details such as time, location, and sources of pollution as photos and video clips, and forward them.
Long way to go
Despite the rapid expansion of environmental information apps, simply making data about emissions accessible to the public will not be enough to overcome entrenched resistance to cleaning up the pollution, Ma Jun said.
Many of the worst polluters are State-owned companies, or those that have influence and close ties with local governments through the large amounts of tax they pay. Although many have been frequently exposed as polluters, they feel no compunction to stop, and continue to discharge unacceptably high levels of polluted emissions, he said.
It's not unusual to see companies that promised to stop polluting the environment within a certain time continuing well past the deadline.
Meanwhile, although the apps give the public access to the data, nothing will change until the authorities begin to act promptly.
"We have received more than 330 cases from users," Liu of the China Forum of Environmental Journalists said. "But none of the complaints sent to the authorities have been investigated. That's the problem with mobile apps-although they allow concerted public action, their power is limited.
"We have shared the codes of our official accounts, allowing governments and environmental protection bureaus access to every case," he said, adding that simply submitting the information will not force local authorities to investigate offenders.
Fang was in agreement. Although he was pleased with the result of his complaint to the officials in Anhui, he said it took two months for them to contact him, and many other facilities he has reported in the same neighborhood are still emitting pollutants.