Enhancing the Openness of the World
China Today,November 23, 2018

Adjust font size:

While the Trump administration, holding high the banner of "America First," stubbornly stuck to its trade protectionism policy, escalating its trade frictions with many countries across the globe, Chinese President Xi Jinping declared at the Boao Forum for Asia Annual Conference 2018 in April that "China's door of opening-up will not be closed and will only open even wider." He also indicated major measures to be taken by China to pursue further opening-up, including those to expand imports. "This November, we will hold the first China International Import Expo (CIIE) in Shanghai. It is not just another expo in an ordinary sense, but a major policy initiative and commitment taken of our own accord to open up the Chinese market. Friends from around the world are welcome to participate in the expo," Xi said at the conference, and promised that the CIIE would become an annual event.

Over 2,800 businesses from 130-odd countries and regions will attend the first CIIE to showcase their services and products in such fields as automobiles, high-end smart equipment, consumer goods, health care, and agriculture. The participating companies are expected to present the most representative products and products with the most advanced, cutting-edge technologies in their fields and of the latest trends.

About the world's first expo themed on import at such a massive scale, China Today interviewed several former heads of state and government as well as secretary general of the InterAction Council Thomas S. Axworthy to get their insights on it.

For a More Open World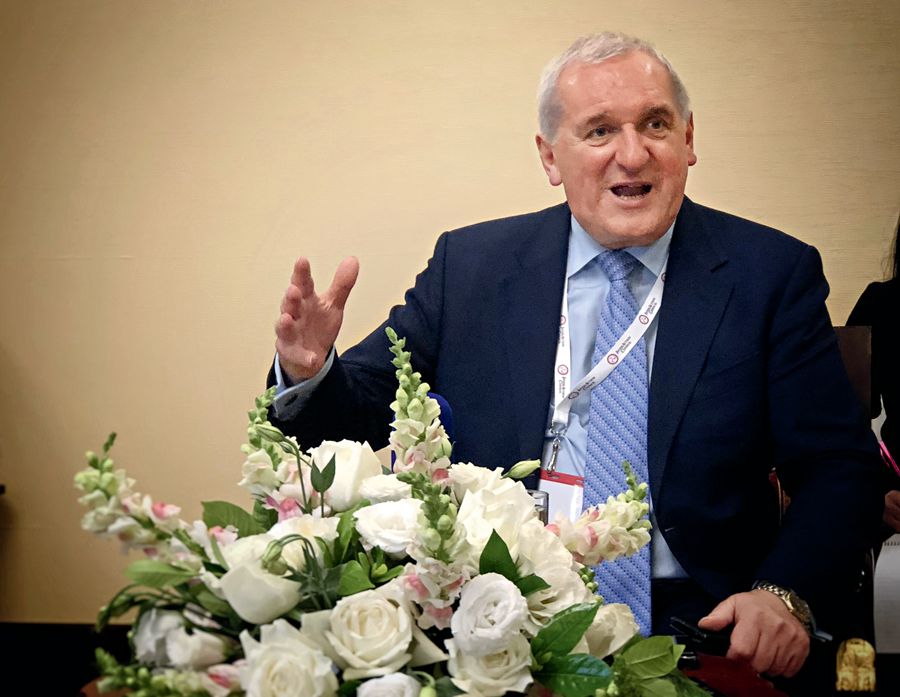 Bertie Ahern, former Irish prime minister.
"It is enormous, and vitally important to global trade. I think [it's] bringing together what the expo does. I've watched expos for decades now, but bringing together countries, companies, corporations, and society from all over the world is wonderful. And I think the huge effort that the Chinese leadership and the administration have put into this is terrific. So I wish it well. I think the preparation and the work that's gone into it is fantastic, and I think it would be a big success for China and generally for the openness of the world," Bertie Ahern, former Irish taoiseach and co-chair of the InterAction Council, told China Today.
Ahern spoke highly of China's multilateralist stand and its new efforts to further open up, "I think the more opening up there is, the more we can get away from restrictive barriers, the better." He thought those punitive measures like tariff hikes could only disrupt the existing international order.
"I think when there's a level playing field for business, no restrictions, tariff penalties, hidden subsidies, it's best for everybody. Because business generates more activities, and activities generate more jobs. You know if more activities develop more taxes, taxes generate more services. So it's a cyclical thing," said Ahern. In his view, trade protectionism will not sustain. "It doesn't work. And who suffers? Those people looking for jobs. You know, young and old, who are looking for jobs," he further explained.
"So I believe in multilateralism. I believe in globalization. The world is more peaceful and best when it's open and free. That's great," the former taoiseach of Ireland said. Ahern also manifested his belief in the international bodies, as it was hard to set up all those international organizations that were intended for the world good, he said.