The Mysterious Origin of Ge Ware
China Today by Song Xiaoyan,April 20, 2018

Adjust font size: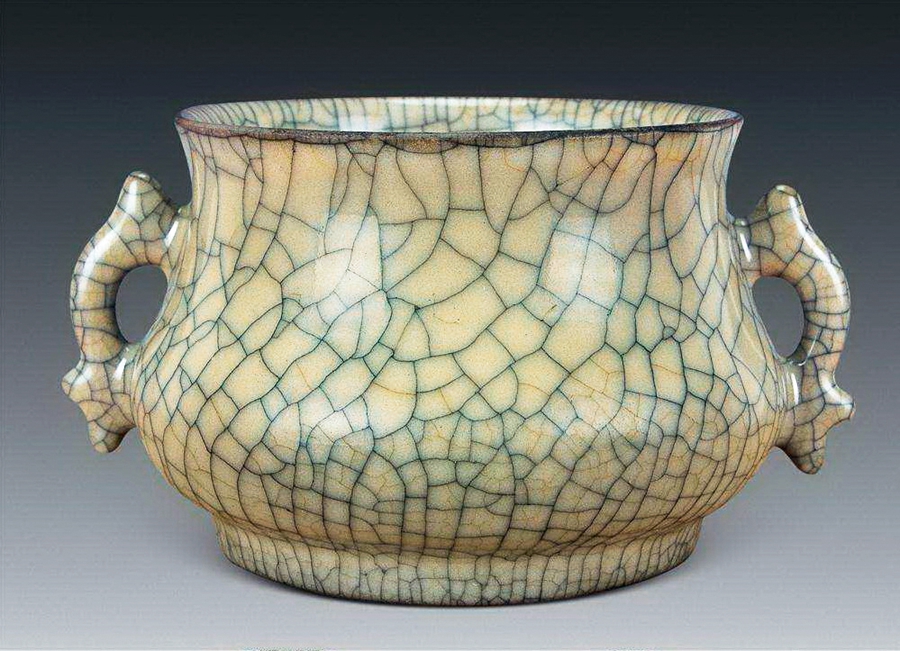 Incense burner with fish-like handles
Amongst the collection of the Taipei-based Palace Museum, this piece resembles the shape of Gui, a kind of bronze sacrificial vessel used in the Shang Dynasty (c. 1600 - c. 1100 BC) and Zhou Dynasty (c. 1100 - 221 BC). The incense burner features an "S-shaped" contour, with its neck slightly curving inward and round belly. There are two fish-shaped handles on the two sides and circular foot at the bottom. The piece has a greyish blue glaze and crazing pattern formed with golden threads and iron wires. On the bottom are six marks of spikes, indicating the holder on which it stood during the burning process.

Generally the Ge porcelain glaze resembles shiny, greasy skin, which is not very illuminant. The glaze is usually deep in color and features uneven coverage in thickness. However, there is the finest Ge ware, with its glaze extremely smooth and bright, which looks more like jade rather than porcelain. The Ge ware made during the Song Dynasty features multiple glazed layers. Under the magnifying glass, we can observe layers of lots of tiny white bubbles converging in the glaze. Up around the "mouth" area of a piece of Ge porcelain, the glaze is thinner, bearing a color of greyish black and purple. Down around its base there is no glaze, with a color of iron brown, featuring primitive simplicity and an elegant style. The aforementioned characteristics are also important features that are referred to discriminate false from the genuine Ge porcelain wares.
Song Xiaoyan is a course planner of antique chinaware at the Ancient Porcelain Courtyard Museum.